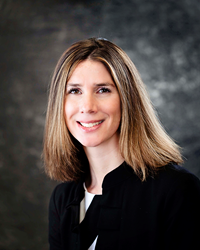 We've recognized a great need for those with a low income who are eligible but unable to be served because of lack of attorney availability.
Cleveland, Ohio (PRWEB) November 18, 2014
Dworken & Bernstein attorney Anna Parise today received special recognition by Cleveland's Legal Aid Society as well as received a Certificate of Congressional Recognition and Achievement from the U.S. House of Representatives at the Legal Aid Society of Cleveland's annual luncheon held in downtown Cleveland at the Renaissance Hotel.
Anna, along with Darya Klammer, Esq. from the Klammer Law Offices in Mentor, Ohio, co-chair the Family Law Section of The Lake County Bar Association. Anna and Darya partnered with Judge Colleen Falkowski and Legal Aid Society to develop a clinic setting to serve clients eligible for Legal Aid services but who would otherwise go without legal representation due to lack of adequate budget resources. The clinics are held quarterly in Judge Falkowski's Domestic Relations Court in Lake County. This clinic began in 2013 providing pro bono Family Law services to individuals by assisting them in the actual filing of the complaint and other necessary pleadings. Judge Falkowski waives all filing fees and court costs for the individuals pre-screened and qualified for Legal Aid services. This program has not been implemented in any other county or courthouse in the State of Ohio. Other counties in the state are looking to mirror the model created by Anna and Darya.
Anna has been with Dworken & Bernstein Co., L.P.A. since 2005 and effective 2015, will become a partner in the firm.
Dworken & Bernstein Co., L.P.A. is the largest law firm in Lake, Geauga and Ashtabula Counties, Ohio with additional offices in downtown Cleveland. Serving the community for over 50 years, Dworken & Bernstein and its 27 lawyers and staff of 65 offers a full range of legal services for businesses, individuals, and families.
Further information about Dworken & Bernstein Co., L.P.A. can be found at http://www.dworkenlaw.com or Ohio Lawyers Give Back at http://www.ohiolawyersgiveback.org.