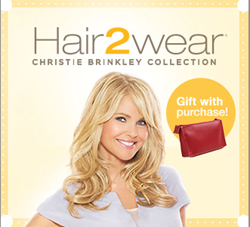 Los Angeles, California (PRWEB) November 13, 2014
Just in time for the holiday season, premiere hair company Hair2wear launches the Christie Brinkley Collection on sallybeauty.com and in 300 Sally Beauty stores in the US and Canada. Providing consumers with the finest in ready-to-wear hair, the Christie Brinkley Collection promises "super easy supermodel hair", granting every woman the power to transform her look instantly. This is just one of the newest additions to the array of beauty products Sally Beauty offers in store and online.
The collection, inspired and worn by Christie herself, consists of "camera ready" hairstyles created from Hair2wear's heat-friendly synthetic hair. This easily maintainable Excelle Kanekalon fiber is available in a variety of colors to blend perfectly with many natural hair colors. Women have the option to choose from several different hair accessories including the 16" Hair Extension that adds volume and length to any style while blending with natural hair for a flawless look. "The Pony", which comes in five different shades, can be worn in a variety of ways that complement any outfit or occasion. Perfect hair for the holiday party season can be created in an instant simply by adding either one of the Christie Brinkley braided headbands or the elasticized hair wrap.
Whichever style consumers identify with the most, the Christie Brinkley Collection by Hair2wear has something for every woman. Compact in size and lightweight in design, each piece is simple to use, low maintenance and heat styleable with curling irons or flat irons set to a max of 350 degrees. These hair add-ons even make great travel companions for the woman on the go who has the desire to switch up her look at a moment's notice.
Sally Beauty has an entire marketing campaign focused on providing customers with great deals, education on how to wear and style each piece, free gifts with purchase and ideas on how to gift the Christie Brinkley Collection during the holiday season. Great as stocking stuffers or as stand-alone gifts, each style was created with the fashionable and fast-paced lifestyle of today's woman in mind.
For more information and to purchase the Christie Brinkley collection log on to http://www.sallybeauty.com/hair2wear and http://www.hair2wear.com
About Sally Beauty
Sally Beauty Supply stores offer more than 6,000 products for hair, skin, and nails through professional lines such as Clairol, L'Oreal, Wella, and Conair, as well as an extensive selection of proprietary merchandise online and in over 2,000 retail stores nationwide.