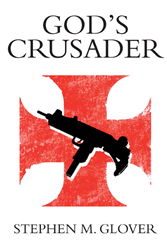 Mark must return to earth as a Knights Templar to put a stop to a group of terrorists. Will "God's Crusader" succeed without killing anyone as God has requested?
(PRWEB) November 14, 2014
Is violence ever the answer? "God's Crusader" is actually a modern-day assassin. Mark Down is good at his job, but eventually a mistake costs him his life.
Surprised to be arriving in Heaven, Mark is met by God, who informs Mark that he is a Knight Templar and has unfinished work to do back on Earth. There's only one condition: Mark must get the job done without any killing. He accepts the assignment and works to put an end to a group of terrorists.
In tracking the terrorists from London to Egypt and then on to South Africa, Mark meets Miriam, an agent for Israeli Intelligence. Together they follow the terrorists and try to stop them. Will "God's Crusader" succeed without killing anyone?
Watch the video here or at http://www.youtube.com/watch?v=6jMSHg-BZ9Y&feature=youtube.
"GOD'S CRUSADER" (ISBN: 978-1-60976-814-0) is now available for $16.95 and can be ordered through the publisher's website:
http://sbpra.com/StephenMGlover, Amazon, or the website of Barnes & Noble.
WHOLESALERS: This book is distributed by Ingram Books and other wholesale distributors. Contact your representative with the ISBN for purchase. Wholesale purchase for retailers, universities, libraries, and other organizations is also available through the publisher; please email bookorder(at)sbpra(dot)com.
About the Author: Stephen M. Glover is from Wiltshire, England. This is his first book.
Strategic Book Publishing and Rights Co, LLC