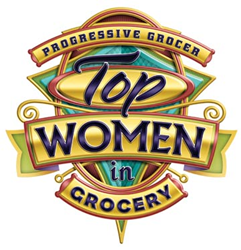 Deerfield, Illinois (PRWEB) November 13, 2014
During the gala celebration, Janel S. Haugarth, Supervalu's EVP and president of Independent Business and Supply Chain Services, was honored with the distinguished Trailblazer Award from Progressive Grocer and the Network of Executive Women. Established in 2012 and sponsored by PepsiCo, the Trailblazer Award recognizes a single food industry executive whose leadership, vision, and influence have had profound influences on blazing new trails for women in the retail food industry.
This year's Top Women in Grocery event also featured an afternoon of learning, networking, and leadership development designed to foster and enhance the professional expertise of its honored guests.
Hosted by Progressive Grocer Group Brand Director and Stagnito Business Information VP Jeff Friedman and Chief Content Editor Meg Major, Progressive Grocer's Top Women in Grocery event marked the eighth year the leading grocery trade publication has recognized the invaluable contributions of women from all walks of the retail food industry in three categories: Senior-Level Executives; Rising Stars; and Store Managers.
Food Marketing Institute's President and CEO Leslie G. Sarasin once again served in a special capacity during the event, during which she presided during the awards presentation ceremony for Top Women in Grocery attendees.
When describing the importance of the industry's premier women's recognition program, Major said the gala event "is indeed a very special occasion, because it provides a rare glimpse of our mission realized in one room, at one moment in time, while allowing us to experience the power of partnerships, unity, equity, connections, and collaborations, which are not only the lasting keys to a healthy industry, but also to the sustained progression of women's continued advancement."
During her welcome remarks to honorees, Major said: "We have made great strides, but there is more to be done. Each of you is part of the legacy to do more to help drive forward a future where for all of us – our daughters, sisters, nieces, and female colleagues and friends – anything is possible. And it's something well worth celebrating."
Deanie Elsner, EVP and chief marketing officer for Kraft Foods Group, provided a special message to Top Women in Grocery winners on behalf of the event's platinum sponsor.
In addition to Kraft, other key sponsors of the sold-out gala included:

After-Dinner Dessert Party Sponsor: The Hershey Co.
Innovation Lounge Sponsor: Procter & Gamble
Anheuser-Busch
Trailblazer Award: PepsiCo
Nationally recognized workplace speaker and author Alexandra R. Levit served as luncheon keynote speaker. Using anecdotes of famous women leaders and research, Levit spoke on the essential leadership capabilities women must develop if they are to be successful in a rapidly changing workforce.
The afternoon program continued with a strategic networking workshop – Setting Goals, Crafting Your Pitch, Putting it to Work – led by Eileen Tarjan, manager of learning for the Network of Executive Women.
The Top Women in Grocery afternoon session concluded with peer circle breakout discussions led by executives from some of the food industry's most admired organizations, including:
Kathy Bayert, VP, Learning and Advisory Services, Network of Executive Women
Janel Haugarth, EVP and President, Independent Business & Supply Chain Services, Supervalu
Tracy Issel, General Manager, Retail Sector, Microsoft
Jane Sinclair Hilk, EVP & President, Kraft Foods Group
Jane Novak-Cook, VP of Customer Business Development, Procter & Gamble
Lisa Walsh, SVP of Sales, PepsiCo
The full list of Progressive Grocer's 2014 Top Women in Grocery recipients can be found here
http://www.stagnitodigitalmedia.com/topwomen/winners.
For additional information, please contact:
Bruce Hendrickson
Corporate Marketing Director
Stagnito Business Information
224-632-8214
bhendrickson(at)stagnitomail(dot)com