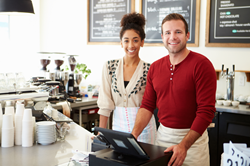 With cloud applications, video conferencing, file sharing and mobile devices a business can operate without an office, full-time employees and expensive benefits.
(PRWEB) November 18, 2014
Hoboken, New Jersey ­- (Vocus) November 18, 2014 – eMazzanti Technologies, a NYC area IT consultant and managed services provider (MSP), outlines technology strategies to promote agile, efficient and collaborative business practices in a new article intended to help small business startup companies enjoy greater success in today's hyper-competitive business environment.
Making the most of current and emerging technologies will increase the odds of entrepreneurs successfully realizing their vision, the article states. Below are a few excerpts from the article "5 Technology Strategies to Slay that Amazing Small Business Opportunity". Read the full article here.
1. Be Fast
Get on the cloud - Accounting, marketing and website software can all be up and running in hours instead of weeks or months with cloud-based applications. The faster the doors open the sooner a business can start saving the planet and generating revenue. Cloud applications also allow for faster innovation in products and services.
Use current technology - Today's technologies work faster and use less energy, making the business and the economy more productive. Windows 8 on your desktop, laptop, tablet and mobile phone puts all important files and contacts at your fingertips no matter which device is being used. The familiar Windows and Microsoft Office experience shrinks the learning curve.
2. Be Lean
Outsource IT - Managed Service Providers (MSPs) offer excellent advice on technology choices and can quickly put it all together. Many offer IT equipment leasing or will provide the entire IT infrastructure needed, including service, for a monthly fee.
Create a virtual business - With cloud applications, video conferencing, file sharing and mobile devices a business can operate without an office, full-time employees and expensive benefits. Outsource manufacturing and everything possible. Freelance marketing, development, and sales resources can be scaled up and down as needed. Sell from a website rather than a brick-and-mortar location.
3. Collaborate
Use software to shrink distances - Easily share data, media, email and ideas with staff (real or virtual), vendors, and customers from the office, at home or on the road with collaboration software such as Microsoft Office 365 Small Business. Personal and business contact information on all office and personal devices helps to build long-term relationships.
4. Use Technology to Drive Revenue Growth
Align technology with customers' values – Millennials are looking for cool technology to create a better world, and they prefer products that align with their values of less consumption and sustainability. (Examples: UBER and FlyKly). Use cool technology and a cause to increase sales with younger customers. If the ideal customer fits another profile, align the technology to their preferences.
The right technology strategy developed with expert advice from the right technology partner can power a fast, lean, connected and wired-to-grow business to epic success.
Additional Resources:
Disaster Recovery and Data Security Excellence Propel eMazzanti to Fifth Consecutive Ranking on Inc. 5000 List
Why Companies Need a Managed IT Services Provider to Survive and Prosper
About eMazzanti Technologies
eMazzanti is your portal to epic Microsoft technologies and partners. Our free-range, grass-fed engineers love it, live it and share it warp speed, 24X7. Transform your high-growth enterprise with amazing network, cloud and mobile solutions to slay real life business opportunities.
Get outsourced IT everything from eMazzanti, a Microsoft 2012 and 2013 Partner of the Year, 5X WatchGuard Partner of the Year, and 5X Inc 5000 over-achiever. Contact: Carl Mazzanti 201-360-4400 or emazzanti.net Twitter: @emazzanti Facebook: Facebook.com/emazzantitechnologies
Download the free article: How to Select an IT Provider here.