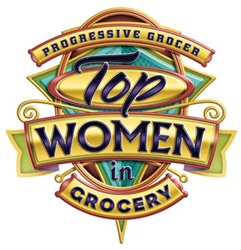 Deerfield, Illinois (PRWEB) November 13, 2014
As one of Supervalu's top executives, Haugarth presides over the Minneapolis-based wholesale distributor's independent business and supply chain services. Appointed to her role in October 2012, Haugarth oversees the company's relationships with about 1,800 independent retail grocery stores across the United States.
Haugarth accepted her award from Progressive Grocer's Chief Content Editor Meg Major, Kathy Bayert, Network of Executive Women's VP of Learning and Advisory Services, and Lisa Walsh, SVP/Sales, PepsiCo.
"In appreciation and recognition of her tireless efforts to advance women through the ranks at Supervalu, coupled with her commitment to advancing extraordinarily worthwhile causes on behalf of the company in countless local communities, we are pleased and very proud to honor Janel Haugarth as our 2014 Trailblazer," noted Progressive Grocer's Meg Major
Also recognized as a 2014 Top Woman in Grocery honoree, Haugarth has been a staunch supporter of the industry's leading women's award program since its inception in 2006. She has also been a longtime member of the Network of Executive Women, whose mission and programs she has lent vigorous support through the years.
During her acceptance remarks, Haugarth shared her philosophy after 37 years in the supermarket business. "First, do something you love. That means not spending time in a job that doesn't motivate you. Staying too long in a job that you have either mastered or doesn't engage you will drain your creativity and spark. I love this business," she affirmed, citing its people, fast pace, and ever-evolving pace.
"I've had the good fortune to have spent most of my 30-plus years working with our independent customers," Haugarth continued. "This fantastic group of entrepreneurs keeps me passionate about the business, excited about the future, and on my toes. They run very successful community based stores across the United States, from one-store towns to large metropolitan areas. They exemplify for me the spirit of innovation, passion, and local retailing. They compete against huge national retailers with innovation, differentiation, service, and nimbleness that large organizations can only strive for." Crediting her role with Supervalu's independents as providing her "with a higher purpose," Haugarth said, "Many of my role models are these fantastic business owners."
Haugarth also congratulated all 2014 Top Women in Grocery honorees. "You're here because you are standouts, seen as current and future leaders in our business. I predict each of you will be at the forefront of this industry's major changes in the next decade and beyond. The future is indeed bright and very exciting. All of the Top Women in Grocery, who are in their companies, their communities, their families and, most importantly, in their own eyes, true Trailblazers."
In closing, Haugarth also thanked Progressive Grocer, "for being the visionary organization that has made a significant investment in the future of our business and knows where our industry is going. The future is us."
Established in 2012, the Trailblazer Award recognizes one food industry executive whose "leadership, vision, and influence have had helped break new ground for women in the retail food industry." Lynn Marmer, group vice president, corporate affairs for The Kroger Co. was honored in 2012; Larree Renda, EVP of Safeway Inc., received the Trailblazer Award in 2013.
For additional information, please contact:
Bruce Hendrickson
Corporate Marketing Director
Stagnito Business Information
224-632-8214
bhendrickson(at)stagnitomail(dot)com