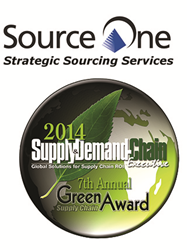 Implementing green alternatives to products and services can be cost-effective
Philadelphia, PA (PRWEB) November 13, 2014
Supply and Demand Chain Executive (SDCE), a magazine for supply management professionals, has awarded Source One with the Green Supply Chain Award. Source One is a supply chain and procurement solution provider that has been recognized for providing green supply chain solutions to leading companies.
"We are very honored to have won the Green Supply Chain Award for three years now. It is a prime example of how we are constantly looking for ways to evolve and customize our services to our clients' needs," said Steve Belli, CEO at Source One. "Green initiatives are clearly a priority for many organizations, and we intend to continue helping them grow their sustainable supply chains."
In today's increasingly social conscious world, sustainable supply chains have become implemented by many companies. However, there are organizations that are looking to make green supply chains a priority, but lack the insight or market data to truly discover eco-friendly suppliers. Source One has a rich history of partnering with such companies, helping them identify suppliers who produced green goods or services at a reasonable cost.
One particular green initiative by Source One was the catalyst for winning the award. The client was looking to find more economical printing and energy service providers that were aligned with their sustainability goals. The client was initially skeptical that low-cost suppliers would be found, but Source One was able to provide several eco-friendly solutions that fit within the client's budget.
"We often hear that businesses do not believe 'low costs' and 'sustainable' can go hand-in-hand," says William Dorn, VP of Operations at Source One. "We do our best to educate these organizations and reduce the stigma around sustainable sourcing. Implementing green alternatives to products and services can be cost-effective, and hopefully winning this award will help prove this fact."
Learn more about Source One's sustainable and green sourcing services.