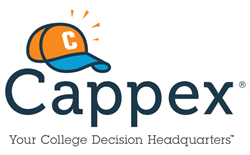 Four Ivy League schools are featured in the list, as well as several schools known as "Little Ivies" in various parts of the nation.
Chicago, IL (PRWEB) November 13, 2014
The college experience is truly the life of the mind – hence the phrase "higher learning". Students attend college to be exposed to new concepts and ways of thinking, and to be challenged academically. However, the students who are even accepted into the schools featured on the Top 25 List of The 2015 Cappies™' fourth category -- "Hardest Colleges" – are particularly tested by their content and disciplines.
Cappex, Your College Decision HeadquartersTM, helps students discover new colleges and scholarships, compare top choices and read student reviews. With this mission in mind, Cappex created the 2015 Cappies, a compilation of more than 1.4 million student reviews of more than 3,000 colleges and universities. The result is a list honoring America's top 25 favorite schools across six popular categories.
Today, Cappex is pleased to announce the schools with the highest ratings in the "Hardest Colleges" category. Student reviewers also provide tips on how to navigate such a rigorous environment successfully.
Here are specific features of certain schools listed on the newest 2015 CappiesTM.

One school's honors program is modeled after the Oxford tutorial system -- the only one of its kind for undergraduates in the nation. Ninety percent of graduates eventually attend graduate or professional school.
Another school is the only American undergraduate-only institution to win first place in the world-renowned ACM International Collegiate Programming Contest.
A third school has an average class size between 12 and 24, and features a student-faculty ration of eight to one. Only 28% of all applicants were accepted for last year.
Four Ivy League schools are featured in the list, as well as several schools known as "Little Ivies" in various parts of the nation. They are recognized as leaders in research and education in several academic disciplines, including liberal arts, economics and engineering.
"Cappex is a destination for answers to the questions that prospective students may have. Students who want to challenge themselves academically will find a veritable Who's Who of our nation's most rigorous colleges, plus a few surprises," said Sarah Wilde, Senior Vice President of Marketing at Cappex. "We know the right kind of school environment can inspire students to think in ways they never have before, and this new list is a unique guide to help them make the right decision on where to attend."
If you are curious about the colleges Cappex students selected as the most difficult, check out the full list of schools in the Hardest Colleges category now. Other winners from The 2015 Cappies will be announced in the coming weeks for Best Colleges for Activities, and Best College Dorms. Also see the list of winners in the previous category announced for Best College Food, Safest Colleges, and Best Value Colleges.
About Cappex
With more than 6 million student users, Cappex is a top web destination for high school and college students as they actively discover and research colleges online. Cappex provides free tools for students to determine their best fit for colleges and scholarships as well as search from more than 3,000 college profiles. Cappex also works closely with admissions officers at hundreds of colleges and universities to help them reach their enrollment goals by going beyond student search to generate qualified inquiries online. Schools can attract the students they want without needing to spend time identifying lists and writing campaigns. Learn more at Cappex.com.
Media Contacts: The Harbinger Group
Eileen Rochford, eileenr(at)theharbingergroup(dot)com, 312/953-3305
# # #