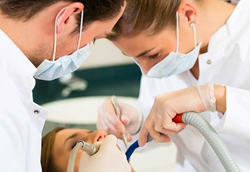 (PRWEB) November 12, 2014
There are a vast number of patients who choose not to visit the dentist each year. This stems from a feeling of anxiety caused by past negative experience or a simple fear of dental instruments. One of the most highly regarded dentists in Los Angeles, Dr. Shervin Louie possesses extensive experience in working with patients who carry high anxiety levels. To help patients minimize their anxiety and receive important treatments, his office is offering several sedation dentistry options.
Sedation dentistry is provided to patients who experience anxiety regarding dental work performed on their teeth. Some patients prefer receiving their dental care under the effects of sedation. Numerous levels of sedation are available, which can have mild to substantial effects. Patients may experience deep sleep where they are fully unconscious or be in a mild state where they are awake, but not responsive to any external events around them.
Patients can receive sedation through a number of methods. These include injection, inhalation, and oral medication. Sedation dentistry provides additional benefits in the form of maintaining body control, enjoying increased comfort and relaxation, and reduced treatment time.
Dr. Shervin Louie provides IV sedation, which will increase the state of relaxation in his patients. They will be conscious, but not feel any pain or physical contact during the treatment. The patient's memories regarding the treatment may be altered as well. The volume and intensity of the sedation can be adjusted to avoid excessive or underestimated dosages.
Dr. Louie is located in Los Angeles, CA and performs a number of cosmetic and general dentistry services with sedation materials.
About Dr. Shervin M. Louie
Dr. Louie received his Doctor of Dental Surgery degree at the USC School of Dentistry and has practiced in the field for over three decades. He completed numerous training programs in cosmetic dentistry and implant reconstruction. His memberships include the Los Angeles Dental Society, California Dental Association (CDA), and American Dental Association (ADA). He is also the Co-Chairman of the Los Angeles Dental Society Peer Review Committee (Dental Arbitration System). For additional information regarding sedation dentistry performed by Dr. Louie, please contact the office at (323) 682-0674 or visit http://www.smileinla.com/.