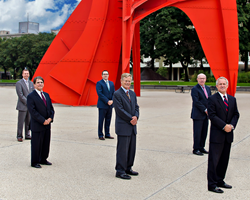 Frankly, it is an honor just to be mentioned with these other attorneys, to whom I've looked for guidance and tried to emulate in so many ways. People trust these attorneys with their lives for a reason—because they are among the best at what they do.
Grand Rapids, Michigan (PRWEB) November 20, 2014
Seven Grand Rapids area criminal defense attorneys have earned the prestigious designation of "Super Lawyer" for criminal law in 2014. The Super Lawyer award is bestowed on less than 5% of all practicing attorneys in the state.
To earn this designation, Super Lawyers must: (1) be formally nominated by their peers; (2) be selected from a pool of nominees based on their professional accomplishments, competence, or other honors or distinctions; (3) be chosen from this larger pool of candidates based on a "blue ribbon review" of all attorneys on a scaled score of 1 to 10 and then compared to other candidates in their respective practice areas based on a variety of other factors; (4) and, lastly, be among those with the highest point totals in their practice area.
All but one boast prior experience building and prosecuting cases for the federal government. Attorney Jeffrey O'Hara, who is currently Judge-elect in the 63rd District Court, filling the vacancy created by Judge Steven Servaas' retirement, spent his entire career in private practice and is the only "Super Lawyer" for criminal law in Grand Rapids who has not worked for the government. Mr. O'Hara is now looking forward to using his substantial experience in private practice to serve the public.
The other six Grand Rapids Super Lawyers for criminal law have used their experience building and prosecuting cases for the federal government to build successful criminal defense practices in state and federal court in West Michigan.
Attorney Gary Springstead, of Springstead & Bartish Law, who is 41 years old and one of the youngest "Super Lawyers," credits his success to his former role building cases for the Federal Bureau of Investigation (F.B.I.) as a Special Agent: "Working violent crimes, white collar crimes, and terrorism investigations in Washington, D.C. made me really appreciate the importance of paying attention to detail. Any investigation you work as an F.B.I. Agent might be scrutinized by some of the best defense lawyers in the U.S., federal prosecutors, the public, the press, or even Congress. You better get it right. Not only do you have to protect the public, but there won't be any shortage of people to let you know if you screw up. Having helped build cases for the F.B.I. definitely helps me know how to take them apart as a criminal defense attorney."
Attorney Springstead's partner, Michael Bartish of Belmont, Michigan, is, at 41 years of age, also one of the younger "Super Lawyers" to have earned the distinction of being one of the best criminal defense attorneys in Grand Rapids and the state. Mr. Bartish began his career as a trial counsel in the United States Army Judge Advocate General's Corps prosecuting military courts-martials while serving four years on active duty. Bartish spent his final year on active duty as a trial defense counsel representing soldiers and officers accused of military offenses. In 2003, Bartish transitioned to private practice and joined the United States Army Reserve where he served as a senior defense counsel training and supervising other trial defense counsel assigned to defend Army Reserve soldiers and officers. In 2012, Bartish transferred to the Michigan National Guard, and was promoted to Lieutenant Colonel this past January. In 2011, he and Mr. Springstead formed Springstead & Bartish Law, a Grand Rapids law firm dedicated almost exclusively to criminal defense.
Mr. Springstead and Mr. Bartish have offices in Fremont and Grand Rapids and regularly practice criminal defense in state and federal courts throughout West Michigan, defending cases and DUI's in the greater Grand Rapids area, Hudsonville, Holland, Grand Haven, Muskegon, Hart, Ludington, Big Rapids, White Cloud and federal courts in Grand Rapids and Kalamazoo.
One of the most senior "Super Lawyers," Attorney Larry Willey of Willey & Chamberlain, spent the formative years of his career in Washington, D.C. at the U.S. Attorney's Office before leaving to work for one of the most renowned criminal defense law firms in the country, Williams & Connolly. Willey also worked for the Department of Justice's Public Integrity Section and the Securities and Exchange Commission (S.E.C.) prior to founding Willey & Chamberlain, widely recognized as one of the premier criminal defense firms in West Michigan. Mr. Willey is commonly regarded as the "Dean" of the criminal defense bar because of the respect he has earned defending high-profile and complex criminal cases in Grand Rapids for more than four decades.
Willey's law partner for the last 27 years and fellow "Super Lawyer" in 2014, Charles "Chip" Chamberlain, began his career at the U.S. Attorney's Office in Grand Rapids on the heels of a clerkship with the Hon. Wendell A. Miles, U.S. District Court Judge for the Western District of Michigan in Grand Rapids. Following his clerkship, Chamberlain spent four years at the U.S. Attorney's Office for the Western District of Michigan, prosecuting violations of federal law, the same type of cases he defends now on a regular basis. Chamberlain is well respected by his fellow attorneys in the Grand Rapids, having served as president of the Grand Rapids Bar Association in 2010.
Attorney J. Terrence Dillon of McShain & Bowie, another "Super Lawyer" in 2014, has been a stalwart among the white collar criminal defense bar for the last 36 years, trying more than 100 cases before a jury. He was an Assistant U.S. Attorney in Grand Rapids for four years before turning to private practice.
Dillon's former boss at the U.S. Attorney's Office, Attorney James Brady, has also selected as a "Super Lawyer" this year. He previously served as the U.S. Attorney for the Western District of Michigan from 1977-1981. Brady currently chairs Dykema Gossett's national White Collar Criminal Defense and Internal Investigations practice area. Brady has also lectured for the National Trial Lawyers Association and the University of Michigan Law School.
Asked about being included among the denizens of the Grand Rapids criminal defense bar, Attorney Bartish said, "Frankly, it is an honor just to be mentioned with these other attorneys, to whom I've looked for guidance and tried to emulate in so many ways. People trust these attorneys with their lives for a reason—because they are among the best at what they do."