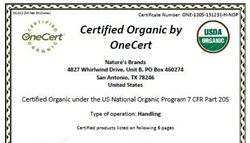 "Today, we are excited to be announcing our new 'Certified Made With Organic" PhytoVitamins: Natural Vitamin C,' states Mr. Koutny.
San Antonio, TX (PRWEB) November 14, 2014
Max Koutny, president and founder of PhytoVitamins, the all - natural vitamin line made with organic whole food ingredients, today announced it has received full USDA Organic Certified status. To be certified as organic, a manufacturer, grower or product handler must meet a set of stringent requirements under the USDA's National Organic Program (NOP). Receiving the USDA Organic Certification Seal demonstrates a company's ongoing commitment to a healthy planet and assures consumers and buyers that the companies' products are, in fact, truly organic.
The PhytoVitamins brand is 100% raw, whole food with no synthetics, additives, preservatives or animal or insect byproducts. In addition to being "organic certified" vitamin supplements, the all-natural vitamins are gluten-free and free of yeast, dairy, soy, wheat and corn ingredients that can cause food allergies or serious health related issues for certain individuals. Furthermore, PhytoVitamins are formulated for vegans, vegetarians and a gluten free diet.
"Today, we are excited to be announcing our new "Certified Made With Organic" PhytoVitamins: Natural Vitamin C," states Mr. Koutny. "This product is completely chemical free and ascorbic acid free and contains 200 milligrams of natural Vitamin C per serving (333% RDV) in our special vegan and vegetarian capsules. As always, PhytoVitamins strives to continually offer the most beneficial ingredients. When you consume the PhytoVitamins, you know exactly what you are taking and it is the best possible ingredients, prepared with the highest quality of care."
In addition to reaching the highest pinnacle an all natural product line can achieve with the USDA Organic Certification, Mr. Koutny also announced a larger size bottle, now 120 vegan/vegetarian capsules, lasting a full 30 days, that supports vegans, vegetarians and a gluten free diet.
Achieving USDA Organic Certified status means that each of the ingredients in the product meet the requirements of the National List of Allowed and Prohibited Substances. In addition, the entire manufacturing process has been validated by a USDA National Organic Program authorized certifying agent as following all USDA organic regulations.
Unfortunately, not all vitamin producers are interested in achieving the Organic Certified status. Since there is a lot of confusion with regards to organic claims, some manufacturers still sell synthetic vitamins, man made in a laboratory or fermented, and claim on their website or in their marketing materials that they are "organic."
If you have questions about whether a vitamin line is organic and/or all natural, check the front label of the product to see if there is a "Made with Organic Ingredients" statement. Only those companies that have gone through the actual certification process and passed the stringent requirements are allowed to put the Made With Organic claim on their label.
In addition, you can check the back of the label for the statement, "Certified Organic By." You can also ask to see a company's "Organic Certificate," listing the product that you are checking to see if it has been certified.
To see PhytoVitamins' certification, please go to: http://www.naturesbrands.com/natures-brands-NOP-certified-organic-certificate.pdf
For media inquiries about the PhytoVitamins Whole Food Organic Supplements, please contact: Max Koutny or Mary Inoa at: (210) 599-1109 or visit: http://www.NaturesBrands.com.
Please contact:
Max Koutny or Mary Inoa
(210) 599-1109