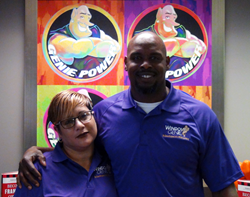 Business ownership was the best opportunity for me to be both successful and happy.
Killeen, TX (PRWEB) November 13, 2014
Window Genie announces the grand opening of its newest location in Killeen Texas on Monday November 17th. Window Genie is a nationally ranked home service franchise specializing in residential and light commercial window cleaning, window tinting, pressure washing, gutter cleaning and more. Local retired Army Master Sergeant, Eric Stewart and his wife Nydia are co-owners. Window Genie of Killeen will service the north Austin communities from Round Rock to Belton and Killeen.
According to Eric Stewart, he spent "20 years, 28 days, 11 hours and 37 minutes" serving in the Army, most recently as an Apache Helicopter Mechanic. After retiring as a Master Sergeant E-8 in 2008, he returned to Iraq and Afghanistan to serve the troops as a Contractor for 6 years in support of "Operation Enduring Freedom" until March of 2014. After returning home to Killeen, Stewart put his resume out to almost 70 employers. "I think I was only called in for two interviews," Stewart said. "I had no idea how hard it would be for me to get a job." Shortly after beginning his job search, Stewart was contacted by Bruce Krebs, Franchise Coach with The Entrepreneur's Source. Together they were able to discover what business opportunities best fit Stewart's strengths, weaknesses, interests and goals. Stewart said, "Bruce helped me realize business ownership was the best opportunity for me to be both successful and happy; I wouldn't do well behind a desk. I was excited immediately at the prospect of being my own boss and creating a future and legacy for me and my family."
Eric and Nydia Stewart open for business on November 17th. Eric is the owner/operator and Nydia will help with administrative duties and social media. Nydia said, "We know starting a business is hard work but we're committed to learning and growing as a team. Our customers' loyalty is what will help us achieve our goals over the next few years so delivering on expectations and building genuine relationships with the people we service will be a major focus."
Window Genie of Killeen's service area includes 138,000 households in the community. 15,000 of those households were added to the Stewarts' territory at no cost. Window Genie's franchise website states, "Veterans have sacrificed their lives for our country, and that's why Window Genie wants to give back in whatever way we can. We proudly participate in the International Franchise Association's VetFran program. The program offers discounts to veterans who want to start a business. Window Genie offers veterans a 15,000-household bump at no extra cost. Our goal is to help military men and women make a smooth and successful transition back into the working world."
To learn more about Window Genie of Killeen or for photos, contact Eric Stewart at estewart(at)windowgenie(dot)com or call 254-526-4847. You may visit their website at http://killeen.windowgenie.com/
About Window Genie: Window Genie is a nationally ranked home service franchise specializing in window cleaning, window tinting, pressure washing, gutter cleaning and more. Window Genie started as a small local window cleaning company in Cincinnati Ohio in 1994 and has since grown to over 70 franchise locations in 22 states. Each franchise location is individually owned and operated. For more information, visit http://www.windowgenie.com
###