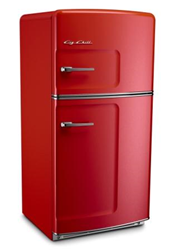 As for color, Big Chill's retro line comes in eight brilliant colors, including colors of the season, Jadite Green and Cherry Red.
Boulder, CO (PRWEB) November 21, 2014
Practical gifts can be fun too, according to appliance manufacturer Big Chill which features a line of retro appliances. The original Big Chill retro fridge will get everyone buzzing whether there's a vintage kitchen at home or not. Energy star efficient, Big Chill is the perfect blend of modern and classic. A stamped metal body, authentic chrome trim and pivoting handle evoke the true nature of 1950's vintage; however, the temperature management system and automatic moisture control bring the best of what's on the market today without having to sacrifice design.
And it doesn't stop at the original Retro fridge either. Big Chill also has a smaller studio-sized fridge also in the 1950's-era style that can add extra special flair to the home in a recreational room or behind an in-home bar. The fridge stands at 14.4 cubic feet and has a beautifully-crafted stamped metal body and chrome trim. With an adjustable freezer shelf, a temperature management system and automatic moisture control, performance will not disappoint.
Big Chill's Undercounter Fridge is the perfect gift for a man cave or a dorm room. The fridge might be small in size, but it is large on features and capability -- and it's pretty too! It is Energy Star rated and features the same stamped metal door as the larger refrigerators. An authentic chrome handle and steel kick plate complete the retro look. The fridge can be ordered with or without a freezer.
As for color, Big Chill's retro line comes in eight brilliant colors – Beach Blue, Jadite Green, Buttercup Yellow, Cherry Red, Pink Lemonade, Orange, White and Black. Not what you're looking for? No problem. With more than 200 custom colors, anyone can welcome the retro fridge into a home and design scheme.
To purchase a Big Chill appliance online, click bigchill.com/buy-online/. For general information, visit http://www.bigchill.com.
###
About Big Chill
Big Chill was founded by Orion Creamer and his uncle Thom Vernon in 2001 and made a splash with its brightly colored, retro-styled fridges with modern amenities. Since then the Boulder, Colorado-based company has expanded its product offering to include refrigerators, fridges, dishwashers, microwaves, stoves, hoods and wall ovens, available in more than 200 colors, as well as custom colors. In addition to retro, mid-century-styled appliances, Big Chill also manufactures contemporary-styled Pro appliances that blend modern design, bold colors and serious performance. Big Chill appliances can be purchased directly online. Visit http://www.bigchill.com to learn more.