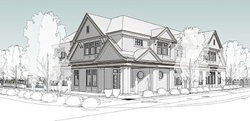 Mississauga, Ontario (PRWEB) November 13, 2014
LJM Developments announced details of its Lorne Park office project which will bring commercial space in excess of 10,000 sq.ft to Mississauga. With extraordinary projects in both residential and commercial real estate, LJM Developments has made a splash in the Greater Toronto Area as a chic boutique developer.
Unveiling plans for an upscale office plaza in the Lorne Park area near the Ontario lake- front is just another great example of the builder's panache. A mostly residential area, Lorne Park has seen hundreds of years of development; LJM Developments noticed the need for office space for professionals in order to better serve the community locally.
As part of LJM Development's overall philosophy of providing naturally integrated buildings and live-work spaces that offer remarkable value to local residents, Lorne Park Professional Center fills both voids. The professional office space will be included in a quality constructed 10,000 square foot plaza with underground parking. Mr. Mian, CEO of LJM Developments believes the "underground parking offers a great way to naturally integrate a new office space into the area without degrading the natural charm of the area with a traditional 'strip mall' design."
The architecture, design and the landscape of the plaza was rendered to reflect the neighborhood's long history with a feel that is reminiscent of its celebrated past. By also catering to professionals such as small business family offices, accounting firms, and investment houses, Lorne Park Professional Center appeals to the residents of the area who will welcome such services closer to home.
LJM Developments has consistently provided commercial spaces in sought-after locations to meet specific needs. Notable successes in commercial real estate development include Uptown Center in Burlington, a 90,000 square foot retail plaza, and the Waterview Condominiums Retail Center, a great example of the 'live-work' philosophy at play. It is with these milestones in hand that LJM Developments keep its sights set on future opportunities to further fulfill its vision of outstanding work spaces developed within walking distance to great residences.
About LJM Developments
With over a decade of unsurpassed excellence, LJM Developments is a recognized industry leader in real estate development. The company has developed highly-acclaimed signature projects that are a perfect synergy of world class architectural design and cutting-edge construction quality. The company has launched key initiatives in major urban centers in Southern Ontario, including Toronto, Burlington, and Grimsby.
Forward looking statements, features, designs, specifications, and expected start and completion date(s) in this article are subject to change.
####
If you would like more information about this topic or need to make further press inquiries, please contact LJM Developments at 289-245-1900 or e-mail: info(at)ljmdevelopments(dot)ca