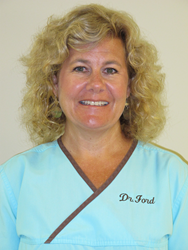 Summerville, SC (PRWEB) November 12, 2014
Those in the Summerville, SC area who are suffering from receding gums can now see Dr. Kelly Ford, an experienced periodontist, for a less invasive treatment. Dr. Ford is intent on providing the most up-to-date techniques and procedures for all her patients, so she now offers the Pinhole Surgical Technique™ for treatment of gum recession. While gum grafts, periodontal therapy, and switching to a soft bristled or electronic toothbrush may offer some relief for the condition, PST™ is the only gum recession treatment that is effective without being invasive.
Many patients forgo treatment for their receding gums because they believe that it will be a painful, drawn out experience. However, those who undergo PST™ in Summerville, SC under the direction of a periodontist like Dr. Ford, typically experience little pain and have less bleeding or swelling at the surgical site than with traditional gum recession surgeries. Most patients are thrilled to see an immediate improvement in their appearance and self-confidence. The procedure does not use incisions or sutures, so individuals recover and heal quickly. In many cases, the gums heal overnight and patients are left with beautiful smiles.
Dr. Ford performs PST™ by placing a pinhole in the gums above the area that is recessed. Using a special tool designed for just this purpose, she goes through the pinhole and releases the gum tissue from the area and gently moves the gums to completely cover the exposed root of the tooth. The gums are held in place by small strips of collagen, completing this simple but essential procedure.
Gum recession can be caused by many different things, including gum disease, misaligned teeth, clenching and grinding of the teeth, tobacco use, aggressive brushing, and genetics. Patients may first discover that they have receding gums because of an increased sensitivity to hot and cold food and drink. They may also notice that their teeth look longer than they did previously. Anyone who has these symptoms should immediately contact an experienced Summerville, SC periodontist, like Dr. Ford, for help. Those who would like to learn more about gum recession treatment are encouraged to visit Dr. Ford's website at http://www.summervilleperiodontist.com.
About the Doctor
Dr. Kelly Ford is a specialist in periodontics, laser gum surgery and dental implant surgery, offering personalized care for patients in Summerville, SC. Her team specializes in the conservative treatment of gum disease and cosmetic procedures to aesthetically enhance patients' smiles. Dr. Ford has extensive experiencing placing dental implants and treating gum disease through the LANAP® protocol. She prides herself in providing excellent patient care in a warm, welcoming atmosphere and is accepting new patients. To learn more about Dr. Ford and the services she offers, please visit the website at http://www.summervilleperiodontist.com or call (843)-639-5557.