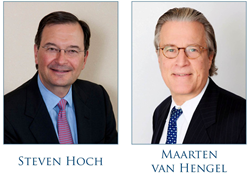 NEW YORK, BOSTON (PRWEB) November 13, 2014
Highmount Capital LLC, a wealth management firm with over $2.3 billion in assets under management, is pleased to announce an update in leadership structure. Steven Hoch and Maarten van Hengel, founding partners of the firm, have assumed the additional responsibilities of Chief Executive Officer and Chief Investment Officer, respectively. Founding partners Berk Nowak, CFA, CAIA, and Brian Walsh, CFP®, remain critical members of the four-partner executive leadership team within the firm, actively involved in all aspects of the daily management of Highmount.
With over 35 years of experience each in the financial industry, Hoch and van Hengel are seasoned professionals in advising clients on investment and wealth management matters. Prior to Highmount, Hoch was a member of the executive committee at Pell Rudman Trust Company (now Atlantic Trust), and held senior positions at Bessemer Trust and Chemical Bank in New York and Zurich. Van Hengel was a managing director at Trainer Wortham & Company, where he established the Family Wealth Management Team, and held various other senior positions at Bankers Trust Private Bank and Swiss Bank Corporation. After growing up together in the New York area, they founded Highmount Capital together in 2002.
As Highmount continues to grow from a multifamily office to a premier global wealth management firm, the need to designate a partner within each of these roles has become apparent. While Mr. Hoch and Mr. van Hengel both continue to maintain senior responsibility for a number of American and European client relationships, Hoch now oversees the strategic and daily management of the firm, while van Hengel leads the firm's Investment Policy Committee in determining the firm's investment approach and asset allocation structure.
Kevin Bannon, CFA, who served as Chief Investment Officer for five years, remains a vital member of the Highmount team. As a Managing Director of the firm, Mr. Bannon's focus has shifted toward the research and management of Highmount's private equity interests. He continues to be a key member of the investment team, participating in discussions regarding the firm's investment approach and asset allocation structure.
About Highmount Capital:
Highmount is an independent wealth management firm focused on the financial needs of high net worth individuals and families. With global investment and trust expertise, the firm has extensive capabilities to address a full range of wealth issues that clients face domestically and internationally. Highmount was founded in May 2002 at the forefront of the multifamily office industry, and is managed by founding partners Steven Hoch, Maarten van Hengel, Berk Nowak, CFA, CAIA, and Brian Walsh, CFP®. With an experienced team in New York and Boston, as well as offices in Europe, the firm has received recognition from organizations such as Forbes, Bloomberg, the Financial Times, and Private Asset Management Magazine. The firm offers innovative investment solutions in addition to being pioneers in family sustainability. For more information, please visit our newly redesigned website at http://www.hmcap.com.