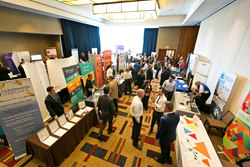 Healthcare Technology Experts to Speak at Healthcare Analytics Forum
Boston, MA (PRWEB) November 17, 2014
The healthcare industry's biggest names are set to speak at the upcoming Big Data & Healthcare Analytics Forum, produced by HIMSS Media. With more than 20 sessions scheduled and 35 experts presenting, the Big Data & Healthcare Analytics Forum will focus on how leading healthcare organizations are using data to produce real-time insights that reduce readmissions, cut hospital-contracted conditions, identify and eliminate waste, and improve clinician workflow.
When: November 20-21, 2014
Where: Westin Waterfront, 425 Summer Street, Boston MA 02210
Who Should Attend: Local, national media outlets covering healthcare and technology. Press passes are available but space is limited.
Top 5 Sessions to Attend to Understand How Big Data is Transforming Healthcare
KEYNOTE: Big Data, Big Hype or Big Bang Inverted?
Thursday, November 20 at 8:35am
John E. Mattison, Chief Medical Information Officer at Kaiser Permanente, will keynote the forum on the first day. "How do we use modern technologies to restore health and create longer, healthier lives?" asks Dr. Mattison. "One way is to use big data and predictive analysis to provide the information we need to support healthy decisions in our daily lives and to create a healthcare system that is proactive and not reactive. But we are moving towards a danger zone – a tsunami of information." Dr. Mattison will address how technology can be harnessed so that it will allow for advances in personalized medicine.
The Value Agenda: Why Quality, Safety, and Patient Satisfaction are No Longer Elective
Thursday, November 20 at 1:20pm
Robert Wachter, MD, Associate Chair of the Department of Medicine at University of California San Francisco will bring his vast experience in the quality and safety movements to provide a roadmap of success regarding the role of analytics and Big Data in identifying quality and value improvement targets.
CASE STUDY: PinnacleHealth – Using Predictive Analytics to Reduce COPD Readmissions
Thursday, November 20 at 4:15pm
George Beauregard, SVP, Chief Clinical Officer for PinnacleHealth Systems will show how incorporating a predictive-analytics model into its clinical settings helped reduce COPD readmissions. PinnacleHealth System includes more than 800 primary care physicians, 4,000 skilled nurses and physicians across five hospitals. This session will show attendees how to create an analytics program from start to finish.
KEYNOTE: Improve Patient Safety & Eliminate Waste – Right Now!
Friday, November 21 at 9:05am
The Mayo Clinic's Dr. Jeanne Huddlestone will highlight the requirements for a 21st century health system as it relates to the needs of patients today in the second day keynote address. Focusing on the needs of patients today, Huddlestone will cover how analytics, lean systems, quantitative process analysis and innovative design are transforming healthcare.
PANEL: Accelerating Big Data Adoption for Patient Care: What will it take?
Friday, November 20 at 11:45am
In this discussion, moderated by Suchi Saria, Assistant Professor, Computer Science at Johns Hopkins University, the panel will focus on how providers are using Big Data on the frontlines of healthcare to improve clinical care, patient safety and reduce costs. As panelist Jim Noga, Chief Information Officer, Partners HealthCare mentions, "with big data you're really talking about data that's fast moving and perpetually occurring. You, as healthcare organizations, are able to intercede rather than merely advise in terms of the care of patients. On the discovery side, with genetics and genomics using external data sources, I think the possibilities of evidence-based medicine, and the ability to drive better protocols on the clinical side offers unlimited possibilities."
Local Experts to Present
Speakers from the Boston area include Jon Bickel with Boston Children's Hospital, David Fairchild with University of Massachusetts Memorial Health and James Colbert with Harvard Medical School.
If you cover the healthcare industry or the technology industry, the forum will provide you with access to the leading experts in the field. Press & media passes are available to qualified individuals but space is limited. Contact Peggy Diab to receive your pass and to set up interviews with speakers or HIMSS Media representatives.
About HIMSS
HIMSS is a global, cause-based, not-for-profit organization focused on better health through information technology (IT). HIMSS leads efforts to optimize health engagements and care outcomes using information technology.
HIMSS is a cause-based, global enterprise producing health IT thought leadership, education, events, market research and media services around the world. Founded in 1961, HIMSS encompasses more than 52,000 individuals, of which more than two-thirds work in healthcare provider, governmental and not-for-profit organizations across the globe, plus over 600 corporations and 250 not-for-profit partner organizations, that share this cause. HIMSS, headquartered in Chicago, serves the global health IT community with additional offices in the United States, Europe, and Asia.