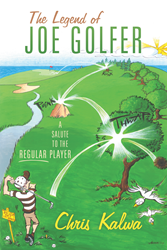 It's time that a regular player's golf story is told, warts and all.
TORONTO (PRWEB) November 14, 2014
According to a recent article in Business Report, there are nearly 60 million recreational golfers worldwide. Golf enthusiast, Chris Kalwa believes that these players can improve both their score and overall enjoyment of the game by relying on their peers.
His new book, "The Legend of Joe Golfer," celebrates the trials and tribulations of the regular golfer.
While there are many golfing books written by professionals or celebrities, very few have been authored by the recreational "Joe" golfer. Kalwa believes that a book for the standard golfer, by the standard golfer can contribute to overall satisfaction and knowledge of the game.
"It's time that a regular player's golf story is told, warts and all," Kalwa said. "My hope is that by sharing these personal golf anecdotes, I can enhance readers' golfing enjoyment and knowledge levels."
Kalwa provides hands-on tips from real golfing scenarios as well as humorous 'golf gone wild' stories. The book appeals to beginning golfers, golf enthusiasts and weekend warriors looking for a good read and techniques to prepare their game for the upcoming season.
For more information, please visit http://bookstore.authorhouse.com/Products/SKU-000694196/The-Legend-of-Joe-Golfer.aspx.
"The Legend of Joe Golfer: A Salute to the Regular Player" By Chris Kalwa
Price: $23.95
ISBN: 978-1-4918-4987-3
Available at: Amazon, AuthorHouse and Barnes and Noble online bookstores
About the Author
Chris Kalwa is a lifelong educator, recreational athlete and a private golf instructor with a passion for inspiring others in golf and life. He recently founded his own home-based golf business called EZ Joe Golfer. Chris lives in Toronto, Canada and "The Legend of Joe Golfer" is his first book.
###
EDITORS: For review copies or interview requests, contact:
Ryan Simpson | 317-275-2057 | rsimpson(at)bohlsengroup(dot)com (When requesting a review copy, please provide street address.)