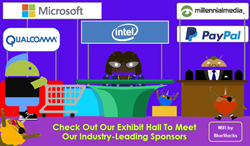 Melville, NY (PRWEB) November 13, 2014
BZ Media, organizer of AnDevCon: The Android Developer Conference, will welcome visitors to the largest dedicated Android development expo hall to date.
A sample of participating exhibitors this year include Intel, Google, Microsoft, Twitter, PayPal, Qualcomm, Dolby Labs, 3 divisions of Amazon, Intuit, Millennial Media, Epson, Sony, MasterCard, Capital One, Yelp!, HP, NFC Forum, and many more.
In addition, participants are welcome to attend the event's networking reception, which will take place on the first day of the expo hall, Thursday, November 20 from 5:45 – 7:30 PM on the exhibit floor.
This networking event offers exhibitors and attendees the opportunity to meet with leading players in Android development and network in a relaxed and social atmosphere. The AnDevCon expo hall will display the latest and most innovative Android products and services.
Below is a sample of the new products highlighted at this year's event:
Sony
o At AnDevCon, Sony will present the latest version of SmartEyeglass, an innovative Sony accessory that lets developers extend the functionality of Android mobile devices with the SmartEyeglass SDK (Developer Preview). SmartEyeglass has a see-through binocular head-mount display, camera, sensors, and a controller with a touch sensor and buttons.
Pollfish
o Pollfish will be announcing the official release of its real-time insights dashboard. App publishers that use Pollfish SDK to monetize their apps with surveys can now use Pollfish insights dashboard to learn more about their apps' user base, and also use Pollfish's DIY survey platform through the dashboard to deliver internal surveys for free within their apps and get immediate feedback from their users.
Mantis Vision
o Mantis Vision Introduces the MV4D SDK, giving developers the power to capture 3D data and integrate it into a wide range of Android applications.
AppliedMicro
o Will be doing live demonstrations highlighting the company's X-C1 development kits, which come with AppliedMicro's APM883208 SoC. The innovative X-C1 Development Kit Basic will be available for purchase at the AppliedMicro booth.
To register for the expo hall or to learn more about this event, click here.
AnDevCon is produced by BZ Media LLC, which publishes SD Times, the magazine for the software development industry. BZ Media also produces Big Data TechCon, the how-to technical conference for IT professionals implementing Big Data; SPTechCon: The SharePoint Technology Conference; and Wearables TechCon.
About BZ Media
Based in Melville, N.Y., BZ Media LLC is a high-tech media company combining the best of print and Web-based publishing with industry-leading technical conferences and expositions.