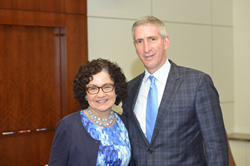 Lake Success, NY (PRWEB) November 13, 2014
The Garden City Group, Inc. (GCG) is proud to announce that its President Neil L. Zola spoke at UCLA School of Law on October 8, 2014 as part of its Distinguished Alumni Lecturer Series. Zola addressed a student assembly, engaged in one-on-one student meetings, talked with UCLA Law Dean Rachel F. Moran, and met with UCLA Law faculty.
"We were so pleased to have Neil back on campus as part of our Distinguished Alumni Lecturer Program," said Dean Moran. "The students enjoyed hearing about Neil's career, just as we at UCLA Law have enjoyed watching it develop. His story, like those of so many of our alumni, illustrates that education, hard work, and a willingness to embrace new challenges are primary drivers for satisfaction and success."
Zola is a 1990 graduate of UCLA Law. He has remained active in the Law Alumni Association since that time, including having served on the organization's Board. After UCLA, he worked for nearly 10 years at a firm in New York City where he litigated complex cases. In 2000, he joined GCG as its first General Counsel. He was promoted to Executive Vice President and Chief Operating Officer in 2002 and thereafter to President in 2006.
At GCG, Zola has been at the forefront of many company advances, including the launch of the company's state-of-the art 60,000 square foot processing and call center in Ohio, the expansion of its West Coast headquarters to a 50,000 square foot LEED certified facility in Seattle, the opening of its Midwest office in Chicago, the development of its Louisiana operations center, the creation of "GCG ICE", GCG's patented system for institutional filers to submit electronic claims in securities cases, and GCG's first ever acquisition, of SSI, an administration firm specializing in employment and discrimination cases. Under his management, GCG has experienced unprecedented growth in its resources, its management team and its revenues.
In addition to his management responsibilities, Zola has successfully administered some of the largest class actions settlements in history, including the $7.8 billion Deepwater Horizon settlement, the $6.15 billion WorldCom Securities Litigation settlement, the $1.1 billion Royal Ahold Securities Litigation settlement, and the $3.05 billion Visacheck/Mastermoney Antitrust Litigation settlement. Zola has written for and been featured in several prominent legal periodicals, including the New York Law Journal, The Recorder, Corporate Counsel, and The American Lawyer. He regularly speaks to business leaders and at legal industry events.
"It was great to be back at UCLA Law," Mr. Zola commented. "The School provided me with a strong foundation to capitalize on the wonderful opportunities I've had in my career. I was happy to spend time sharing my experiences with students, faculty, and Dean Moran, and I am proud to be a UCLA alumnus."
About The Garden City Group, Inc. (GCG)
GCG (http://www.gcginc.com) is the recognized leader in legal administration services for class action settlements, bankruptcy proceedings, mass tort matters, regulatory administrations, and legal noticing programs, with more than 1,000 employees in offices coast-to-coast. For five years in a row GCG has been the highest ranked bankruptcy claims agent in the New York Law Journal survey of "Best Claims Administrators". The firm has been engaged in many high-profile distribution matters, including the General Motors bankruptcy, the $20 billion Gulf Coast Claims Facility and the $7.8 billion Deepwater Horizon Economic Property Damages Settlement, the $6.15 billion WorldCom settlement, the $3.4 billion Native American Trust Settlement and the $3.05 billion VisaCheck/MasterMoney Antitrust settlement.
About Crawford
Based in Atlanta, Ga., Crawford & Company (http://www.crawfordandcompany.com) is the world's largest independent provider of claims management solutions to the risk management and insurance industry as well as self‐insured entities, with an expansive global network serving clients in more than 70 countries. The Crawford Solution℠ offers comprehensive, integrated claims services, business process outsourcing and consulting services for major product lines including property and casualty claims management, workers compensation claims and medical management, and legal settlement administration. The Company's shares are traded on the NYSE under the symbols CRDA and CRDB.