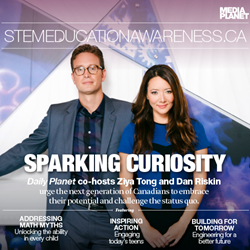 "The reason I love sharing the wonders of the world on Daily Planet with our viewers, is that I believe when you fall in love with the world, you will fight to protect it."
(PRWEB) November 13, 2014
The print component of STEM Education is distributed within today's Home and Business subscription of the Toronto Star, with a circulation of approximately 230,433 copies and an estimated readership of 622,169. The digital component is distributed nationally through a vast social media strategy and across a network of top news sites and partner outlets. To explore the digital version of the campaign, click here.
The publication features an exclusive interview with Daily Planet co-hosts Ziya Tong and Dan Riskin, where they open up and share what fuels their passion for STEM and sharing knowledge. Their main aim is to fuel passion in STEM for today's youth, and Ziya also states that "the reason I love sharing the wonders of the world on Daily Planet with our viewers, is that I believe when you fall in love with the world, you will fight to protect it."
Special editorial from Actua President and CEO, Jennifer Flanagan, explores how youth should make meaningful connections through experimentation, and to encourage kids to not shy away from failure as it's a necessary step towards achieving success. Let's Talk Science's President and Founder, Bonnie Schmidt, shares results from a study based on teens' thoughts about their future careers, and highlights how providing real-life examples of how STEM can translate into interesting jobs for the next generation of workers.
Special thanks to Kumon Canada, Carleton University, Engineers Canada, AMGEN, Bishop Strachan School, and Microsoft Canada for their support in the making of this campaign.
About Mediaplanet
Mediaplanet is the leading independent publisher of content-marketing campaigns covering a variety of topics and industries. We turn consumer interest into action by providing readers with motivational editorial, pairing it with relevant advertisers, and distributing it within top newspapers and online platforms around the world.
# # #
Press Contact:
Alexis Patch
alexis.patch(at)mediaplanet(dot)com
1-416-583-2220