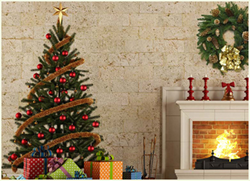 CARLSBAD, California (PRWEB) December 11, 2014
For the holiday season, Hooks and Lattice is offering shoppers a variety of attractive artificial Christmas trees, which promise the authentic look of a traditional Christmas tree without the extra work of choosing and tending to a natural tree. Hooks and Lattice produces artificial trees that are made with light but strong PVC and molded needle tips, which are fashioned after genuine needles for a cosmetic appearance that looks more authentic than PVC alone. Hooks and Lattice carries an extensive selection of artificial trees; shoppers can choose from fir, pine, or spruce needle styles, and they can also decide between purchasing a basic tree or a convenient pre-lit tree. The pre-lit trees come outfitted with clear or colored lights, which are available with LED or high-efficiency bulbs. Hooks and Lattice carries trees in various sizes, with widths varying from 4.25 feet to about 9.2 feet, and heights ranging from 6.5 feet to 12 feet; this selection helps virtually any customer find the right match, regardless of budget or available home space.
Hook and Lattice's artificial trees represent a convenient alternative to real trees because buyers don't need to water and fertilize the trees, clean up fallen needles, or worry about branches breaking; molded tip needles are durable, and sturdy PVC branches easily support most ornaments. Buyers who choose artificial trees this year can also save time and money in the future by reusing their trees. This holiday season, Hooks and Lattice is also selling other durable Christmas decorations, including wreaths and centerpieces, to complement its selection of artificial trees; the company also offers shoppers numerous seasonal gifts, including gift certificates, herb kits, garden decorations, hanging baskets, succulent plants, box gardens, and gardening books. Orders of in-stock items that do not require customization usually ship from California within just two days, ensuring that the chosen decorations or gifts arrive in time for the holidays.
About Hooks and Lattice
Hooks and Lattice helps homeowners improve the curb appeal and interior appearance of their homes with exterior shutters and a variety of indoor and outdoor plants, including hanging plants, box gardens, wall planters, and artificial plants. The home and garden company, which is based in Carlsbad, California, was founded in 2001 and now provides products to retail garden centers and private consumers across the country. Hooks and Lattice offers customers convenient online ordering, customizable products, and fast turnaround times on both regular and custom orders. To learn more about Hooks and Lattice, please visit http://www.hooksandlattice.com.