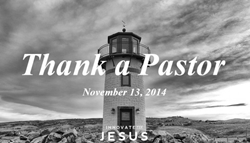 We would like to encourage all MMI volunteers, staff, and supporters to take a moment to thank a Pastor in this very visible way!
Allen, TX (PRWEB) November 13, 2014
Pastors serve, shepherd, and lead us every day, but it's rare that we're able to say "Thank You" to them en masse. #ThankAPastor Live Event
Medical Ministry International is joining with Innovate 4 Jesus this Thursday from 1:00pm - 5:00pm EST, as they host an international live show featuring 25 influential church leaders sharing their favorite memories, advice received, and appreciation for the pastors in their lives. Throughout the show, the messages of up to 100 audience members will be shared on-air, and participants are invited to submit their personalized thanks using #ThankAPastor.
Hundreds of top influencers have agreed to start the viral wave on November 13, 2014. The stated goal is for 100,000 people to share their thanks to pastors on social media that day.
The #ThankAPastor event is concurrent with the launch of Innovate For Jesus' print magazine's first edition that features an in depth article by Medical Ministry International's CEO, Sam Smith. In the article Sam discusses growing the Church's responsibility to the world and how to use the gifts God has provided to Change Lives. He will appear live during the #ThankAPastor event starting at 1:35 EST to honor and thank his friend, Pastor Scott Brown, Senior Pastor at First Baptist Church of Bullard, TX. "Scott Brown is a shining example of how a church leader doesn't just preach sermons on Sunday, but is heavily engaged in his community. Scott understands what it means to be missional in his actions and live his faith 24/7. We would like to encourage all MMI volunteers, staff, and supporters to take a moment to thank a Pastor in this very visible way!" In addition to daily web content and interactive weekly shows, Innovate For Jesus magazine will serve as a means to connect Christian leaders nationwide, and provide nuts-and-bolts insight for ministry. All #ThankAPastor participants are welcome, but by no means expected, to check out the magazine's Kickstarter campaign. Interested parties may fund the continuation of the magazine, and receive a first-edition print and personalized thank you card for the pastor or church leader of their choice.
About Medical Ministry International:
Medical Ministry International provides compassion and health care in a world of need using Jesus as our Guide. A Charity Navigator 4 Star Charity operating in over 23 countries around the world, MMI utilizes Health Centers and International Teams to serve the poor. Medical and Non-Medical Volunteers and Staff work to build capacity and medical infrastructure by optimizing the gifts that God has provided.
About Innovate 4 Jesus:
Innovate 4 Jesus is about Growing the Church and the vision of best-selling author, Justin Blaney. Justin hosts regular live events to provide an environment for members of the world-wide Church to engage and discuss relevant topics impacting not only your community, but the world. Innovate 4 Jesus Magazine is a quarterly publication to inspire, refresh, and equip Church Leadership.