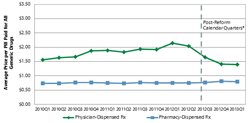 "In many states across the country, policymakers are debating whether doctors should be paid significantly more than pharmacies for dispensing the same drug."
Cambridge, MA (PRWEB) November 13, 2014
A new study from the Workers Compensation Research Institute (WCRI) found physician-dispensed drug prices in Connecticut decreased about 30 percent, yet remained 30–60 percent higher than pharmacy prices.
"In many states across the country, policymakers are debating whether doctors should be paid significantly more than pharmacies for dispensing the same drug," said Dr. Richard Victor, WCRI's executive director. "Policymakers in Connecticut adopted new rules, effective July 15, 2012, to narrow the price difference, and the research finds, based on the early post-reform data, the new regulations did not discourage physicians from continuing to dispense these drugs at lower prices, which was a concern."
The purpose of the study, Early Impact of Connecticut Reforms on Physician Dispensing, is to examine the early results of Connecticut's changes to the rules governing reimbursement to Connecticut physicians for prescriptions that they both write and dispense. Connecticut is one of 18 states that have made significant changes to such reimbursement rules in the past 10 years, motivated by concerns about the higher costs of physician-dispensed prescriptions.
Using the data in the second quarter of 2012 (pre-reform) and data in the first quarter of 2013 (post-reform), the following are among the study's findings:

Physicians in post-reform Connecticut dispensed 36 percent of all prescriptions, decreased slightly from 39 percent pre-reform. Recognizing that the data reflect early post-reform experience, the result is important to note because advocates for physician dispensing argued that such changes would make it more difficult for patients to have prescriptions filled at their physicians' offices.
The average price per pill paid to physicians for most common drugs decreased by 20–67 percent in the two quarters after the reform. For seven of the top nine drugs, the average price decreased by 28–49 percent. The price reductions were consistent with the goals of Connecticut's rule changes.
Despite these price reductions, the average prices paid for most of the common physician-dispensed drugs remained 30–74 percent higher than the prices paid to pharmacies for the same medications. Examples include hydrocodone-acetaminophen (Vicodin®) and ibuprofen (Motrin®). Several reasons may help explain the large price differentials, including pharmacy prices below the average wholesale prices (AWPs) due to pharmacy benefit manager contracts, the lag in post-reform price reductions, and certain language of the new reimbursement rules.
Prescriptions for some common drugs with over-the-counter strengths, such as acetaminophen of 500 milligrams (Tylenol®) and omeprazole of 20 milligrams (Prilosec OTC®), were often written and dispensed by physicians who dispense drugs in Connecticut. The prices paid for these over-the-counter drugs were much higher when dispensed at a physician's office, compared with what was paid at a local pharmacy without a prescription.
The data used in this analysis of Connecticut's pharmacy fee schedule reform came from payors in Connecticut that represented 64 percent of all medical claims in the state workers' compensation system. The analysis data was constructed by calendar quarters so that, for each quarter, WCRI included prescriptions filled within the quarter for medical claims that had up to two years of maturity. On average for each of the quarters, WCRI included 14,056 prescriptions paid for 4,850 claims for Connecticut. WCRI intends to update the results with additional data to examine the longer-term impact of the reforms.
The Cambridge-based WCRI is recognized as a leader in providing high-quality, objective information about public policy issues involving workers' compensation systems.
For more information about this study, visit http://www.wcrinet.org/result/ct_pd_2014_result.html.
ABOUT WCRI:
The Workers Compensation Research Institute (WCRI) is an independent, not-for-profit research organization based in Cambridge, MA. Organized in late 1983, the Institute does not take positions on the issues it researches; rather, it provides information obtained through studies and data collection efforts which conform to recognized scientific methods. Objectivity is further ensured through rigorous, unbiased peer review procedures. WCRI's diverse membership includes employers; insurers; governmental entities; managed care companies; health care providers; insurance regulators; state labor organizations; and state administrative agencies in the U.S., Canada, Australia and New Zealand.