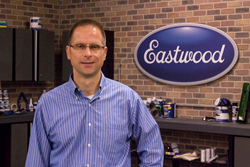 Eastwood has been at the heart of the automotive restoration and customization hobby since the beginning
Pottstown, PA (PRWEB) November 13, 2014
Brian Huck has been promoted from Vice President of Marketing & Sales to President and Chief Operating Officer of the Eastwood Company. In his new role, Huck will oversee the entire Eastwood Company business unit including channels, product development and the expansion into retail; including strategic planning, acquisitions and business development. He will be based out of Eastwood corporate headquarters in Pottstown, PA.
"I am very pleased that Brian has agreed to take this new leadership position," said Curt Strohacker, Chairman and Founder. "Brian's 20 years of high-level business experience in the direct to consumer and retail channels is just what we need as we continue to grow our retail presence with all forms of online marketing. I am very excited about Brian's new appointment, which will allow me to focus on many things I want to do for our company and with my family." Strohacker will remain as the Chairman of the board.
In his six years at Eastwood, Huck has been instrumental in driving significant growth both online and offline, and will now continue to lead Eastwood's growth in the future. When asked about the appointment, Huck commented, "It's been an amazing ride at Eastwood over the last six years, and it's been an absolute privilege to be a part of what Curt started more than 35 years ago. Eastwood has been at the heart of the automotive restoration and customization hobby since the beginning, and we have an extremely talented team here who will continue driving growth and impacting the industry for years to come. I look forward to being a part of our charge into the future, and know we've assembled a phenomenal team to do just that."
Eastwood markets unique tools and supplies for repair, restoration, and modification of cars, trucks, and motorcycles. Founded in 1978, Eastwood strives to develop new products to serve the home automotive hobbyist, as well as individuals and organizations focused on the restoration and preservation of automobiles and motorcycles. Writers are always welcome to use any article in Eastwood's Free Tech Library, with attribution. Contact Nick Capinski at ncapinski(at)eastwood(dot)com