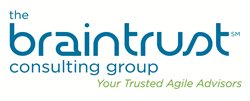 Register now and expand your Agile knowledge through a course that offers hands-on exercises and lets you experience the benefits of Scrum firsthand.
Birmingham, Ala. (PRWEB) November 13, 2014
The Braintrust Consulting Group will offer a Certified ScrumMaster training class November 20-21, 2014 at the Homewood Suites – Las Vegas. The two-day Certified ScrumMaster class offers attendees an in-depth immersion into the world of Scrum.
Registration is open and seats are still available for this two-day course. Attendees are encouraged to sign up in advance.
This class is ideal for IT Professionals (Architects, BAs, DBAs, Developers, Testers, etc.), IT Leadership (Managers/Directors/VPs/CIOs/CTOs), and Project Managers. Members of the Project Management Institute will earn 14 Professional Development Units (PDUs) toward maintaining their existing credentials by attending this class.
To read a full description and benefits of the Certified ScrumMaster class, please visit: http://braintrustgroup.com/class/certified-scrum-developer-csd-track-two-orlando-fl-29-3-september-october-2014/.
The Braintrust Consulting Group chose Las Vegas because of the city's commitment to growing small businesses, especially in the information technology sector. Braintrust President, Brian Rabon said, "Our decision to host classes in Las Vegas was based on the city's commitment to growing diversity in the current economy. We are proud to participate in their technology industry by bringing our world-class training to Las Vegas."
Tom Mellor, CST, will teach the class. Mellor is a seasoned professional who has been actively involved in business and IT for over 36 years, working in both large and small companies. A Certified Scrum Trainer since 2008, he is passionate about the adoption and use of agile-based product development approaches.
The two-day class will be held at the Homewood Suites – Las Vegas located at 230 East Hidden Well Road, Las Vegas, NV 89119.
Individual attendee and group pricing are available. To learn more about the Agile approach to training and additional upcoming classes in surrounding areas, please visit: http://braintrustgroup.com/classes/.
###
About The Braintrust Consulting Group
With offices in Birmingham, Alabama, Los Angeles, California, and Salt Lake City, Utah. The Braintrust Consulting Group is a worldwide leader in Agile transformations. Through practical, hands-on training and enterprise and team coaching, we help our clients learn, plan, and implement Agile processes, such as Scrum and Kanban. Our goal is to teach our clients how to increase predictability of delivery, decrease time-to-market, and improve overall client satisfaction.