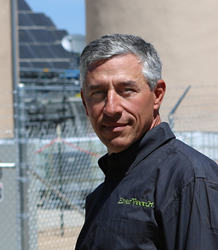 EnerVault is very well positioned to capture significant share of the utility energy storage market
Sunnyvale, Calif. (PRWEB) November 13, 2014
EnerVault Corporation announced today that its Board of Directors appointed Ron Mosso as Chief Executive Officer and Denis Giorno as Board Chairman. The promotions follow the departure of Jim Pape who has elected to pursue other interests. Mr. Mosso, who has served as Chief Technology Officer at EnerVault since 2010, has over 30 years of broad experience in executive management positions including operations, sales, business development, and engineering. Mr. Giorno is a veteran of the global energy industry and currently serves as President & CEO of Total New Energies USA, Inc.
"With EnerVault Turlock completing its megawatt-hour performance testing on schedule and according to plan, EnerVault is ready to deliver grid-scale, long duration energy storage in the early stages of this rapidly growing and important sector of the power market," said Mr. Mosso. "The team at EnerVault has made great advances in pioneering innovative technologies, commercializing a safe, low-cost chemistry, and putting in place the capabilities needed to offer an emission-free alternative to combustion turbines for the flexible generation needed in a clean, resilient grid."
"Ron's leadership has been instrumental in EnerVault's progress in developing long duration energy storage systems," commented Denis Giorno, Chairman of the Board. "With the continuity of Ron's promotion, the demonstrated capability of the team in place, and the opportunity of a market rapidly surpassing gigawatt-hour size, the board is confident that EnerVault is very well positioned to capture significant share of the utility energy storage market."
"Monumental transitions are underway in energy storage," commented Janice Lin, co-founder and Executive Director of the California Energy Storage Alliance. "Southern California Edison's recent decision to procure more than five times the minimum required by the CPUC, is just the beginning. Utilities now see the value in cost-effective storage and with the demand for utility energy storage taking off, companies which have demonstrated capability have an opportunity to grow with the rapidly growing market.
About EnerVault:
EnerVault designs and manufactures grid-scale, long duration energy storage systems based on iron-chromium redox flow battery technology pioneered by NASA. EnerVault's energy storage systems offer grid operators the flexibility to both absorb and deliver energy to cost effectively manage system efficiency, increase reliability and integrate renewable resources. Based in Silicon Valley, EnerVault is the first company to deploy megawatt-hour scale iron-chromium redox flow battery systems in field operations.