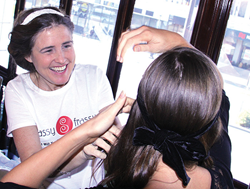 "I get more compliments when it's in than out. Ladies are really appreciating it while on holiday instead of a packing a heavy and cumbersome curling iron" says Jordan. "I've been getting a lot of sales from moms who are using it on their daughters too"
Victoria British Columbia Canada (PRWEB) December 02, 2014
NEW HAIR CURLER WILL REALLY CREATE EASY CURLS WHILE OUT AND ABOUT
SassyFrassy's hair curling tool, the brainchild of entrepreneur Kate Jordan, promises to free women from being limited to styling hair at home, and in a salon using hair damaging curling irons. Jordan's portable, chic invention uses either instant heat inserts or curls without heat, as desired by the user. It can be used by women on the go, whether to work, to the kids' soccer games, to the gym or wherever a busy day takes them, no need for electricity or a microwave. This headband curls hair at the spa, just after a swim or better yet, while sleeping comfortably making no heat overnight curls with (or without) lavender sachets. The result is two fabulous looks: a great look while wearing the hair curler and great spiral curls after taking the "Sassyband" out.
Unlike the bristle and foam rollers that a previous generation of women would hide under a scarf while in public, SassyFrassy users sport a stylish salon-type up do while curling hair.
Lisa Gelling, a mother of four, swears she can install the new hair curling tool while flipping pancakes and adores the wavy hair it creates that make her feel ready for an evening out.
Users tie the patented Sassy hair curler around their head, and simply wrap sections of hair around the curling tool. The headband curls without heat or with heat, depending on preference. After about a half hour or more (depending on desired spiral curls or wavy hair), users untie the Sassy curls with headband, shake out their hair, and enjoy a head full of beautiful easy curls. Or they can insert a sachet of lavender for the benefit of some relaxing aromatherapy while the curls form in their own time.
The Sassyband is offered in different colors and fabrics, Jordan is donating 10% of her profits to charities including the Women's Transition House. SassyFrassy kits retail for $24.95 and include the curling headband, the instant heat inserts, and lavender inserts.
"When you get time freed up it gets filled right in," Jordan said. "I want women to think 'I committed this time to thinking about myself'."
For additional information and instructional video, visit http://www.sassyfrassy.com