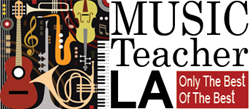 There are many degreed and talented musicians. There are many experienced and dedicated teachers. There are few great musicians that are great teachers. That talent combo is hard to find. Our teachers personify that combo.
Los Angeles, CA (PRWEB) November 14, 2014
Music Teacher LA is playing Santa Claus this season with its Private Music Lesson Holiday Promotion. 10-Lesson In-Home Music Packages are now 10-15% off, but only through December 20th.
For those who want to give a gift that keeps giving, Music Lesson Gift Certificates for 3 Lessons of 30, 45, or 60 minutes are also available. During the Holiday Promotion these can be purchased for $120, $160 and $185, based on the lesson duration selected.
Finding the perfect music teacher for students of different ages and sill levels used to be a tedious, hit-or-miss experience. This all changed with the creation of Music Teacher LA. This new resource for "A List Musician-Teachers" was the creation of Olesya MacNeil, an incredibly skilled teacher and musician with a Masters in Music. Knowing that many of her music students had previously had unsatisfactory experiences with other teachers before they finally hired her, she determined that there was a need to take the guess work out of finding the perfect music teacher. She decided to seek out the best music teachers in Los Angeles and bring them together under Music Teacher LA for a one-call solution to music teacher selection.
Why are Music Teacher LA instructors the best? Each and every one has to go through a rigorous interviewing process with MacNeil. In fact, is not easy to join the roster of select instructors. Of all the musicians Olesya interviews who wish to join the team, only 2% meet her rigorous standards of excellence Including:
-An advanced music education
-Professional musical accomplishments
-Education and experience in teaching
-The special and unique personality type and natural creativity that motivates students
-The burning DESIRE to teach vs. Make some MONEY teaching music on the side
To see the caliber and credentials of Music Teacher LA Instructors visit the website. Available for complimentary download on the site is a valuable eBook entitled "7 Things Every Parent Should Know About Music Lessons" that takes the mystery out of music teacher selection.
ABOUT THE COMPANY
Music Teacher LA offers quality private music lessons on all instruments for ages 3-adult in the Los Angeles area. Whether looking for piano, voice, violin, guitar, flute, recorder, saxophone, clarinet or drum lessons, the perfect instructor is just a phone call away. Our professional teachers give lessons either in the privacy and convenience of your home or in their studios.
Music Teacher LA instructors come from all over the world. They have graduated from prestigious schools and conservatories, and most have at least a Master's Degree in Music. Many are actively involved in performing, composing and producing. They are each very unique and talented. Although their experiences differ, they all share a passion for teaching and music expertise. Music Teacher LA always follows up on lessons taught by their teachers to assure client satisfaction.
Music Teacher LA also offers Ensemble and Group Lessons for schools, expert Piano Tuning Services and Gift Certificates that can be personalized for friends and family.
We believe that music instructions should be enjoyable, inspire creativity, and match each individual's goals.