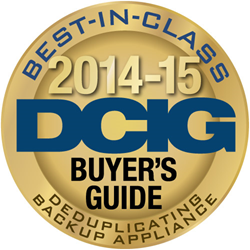 "While deduplicating backup appliances still do what they do best, deduplicate backup data, new options continue to emerge that set them apart," said Tim Anderson.
Austin, Texas (PRWEB) November 13, 2014
The refrain that "Backup is Broken" is not new and has been around for years. With ever-increasing data volumes due to the growth of both structured and unstructured data combined with the decreasing costs of storage capacity on a per gigabyte basis, companies continue to face additional pressures to the backup process. Enter the rise of backup and data optimization technologies, including deduplication. This rise has seen deduplicating backup appliances become the go to solution to alleviate backup pain.
Deduplicating backup appliances provide a quick, plug-and-play capability to reduce overall storage consumption by up to 20x and improve the overall backup experience. And, while backup software incorporates deduplication, deduplicating backup appliances continue to distinguish themselves by offloading the overhead associated with deduplicating data from the client or media server to the appliance itself.
However, just as data continues to grow at mind-numbing levels, deduplicating backup appliances continue to incorporate new options and technologies to set themselves apart. It's these new changes that highlight the latest DCIG Deduplicating Backup Appliance Buyer's Guide. The third Buyer's Guide focused on deduplicating backup appliances, this year's Guide highlights advances technology providers have made in backup acceleration software, deduplication algorithms, cloud connectivity, replication, scale out and scale up architectures and virtual appliances.
"As with all technologies, the devil is in the details, and once a user goes beyond the basic plug-and-play setup with a deduplicating backup appliance, they need to best understand differences in feature functionality to determine suitability for their unique environment,' said Charley McMaster, senior research analyst and co-author of the DCIG 2014-15 Deduplicating Backup Appliance Buyer's Guide. "As this market continues to mature, it's incumbent on the technology providers to incorporate new features and not just alleviate some of the pain associated with data protection and recovery, but to enhance and accelerate the overall backup process. This year's Guide looks at more than 40 solutions designed to do just that, and will give those involved in the decision making process an easy way to evaluate and shortlist solutions they may want to take to the next level of consideration, in-house testing."
For the DCIG 2014-15 Deduplicating Appliance Buyer's Guide, DCIG, LLC evaluated 47 offerings from 10 companies. After an initial survey containing more than 100 questions was completed, product capabilities were assessed based on data provided by the vendor, prior DCIG research, and information available in the public domain. Products were then evaluated on more than 100 features. After scores were compiled, products were ranked Best-in-Class, Recommended, Excellent, Good, or Basic across functionality and capability relative to the other products included in the Buyer's Guide.
The intent for this Buyer's Guide, as with all DCIG Buyer's Guides, is to provide an "at-a-glance" comparison from which end users can select the most appropriate solution for their existing needs.
The DCIG 2014-15 Deduplicating Backup Appliance Buyer's Guide Top 10 solutions include (in alphabetical order): EMC Data Domain 4500, 7200; HDS SEPATON S2100-ES3-Series-2925; Hewlett Packard HP StoreOnce 6500; NEC HYDRASTOR HS8-4104R-7920 (104HN+61SN); HS8-4006R-720, HS8-4002S-192; Quantum DXi6802, DXi6900, DXi8500.
Hewlett Packard HP StoreOnce 6500 achieved the highest ranking in this Guide by delivering the best of the new features such as global deduplication, high availability, scale-out and scale-up options and availability as a virtual appliance along with its continued attention to deduplication, management and flexibility of deployment. Hewlett Packard HP StoreOnce 6500 stood out in several ways from competitive solutions listed in the Buyer's Guide.

Scales to multiple petabytes of raw capacity: Offering an architecture that combines scale up and scale out, HP StoreOnce 6500 nodes scale up to 280 terabytes of raw storage capacity. By grouping as many as eight nodes together, the appliance scales out to 2.59 petabytes.
Availability as a deduplicating virtual appliance: As more enterprises look to protect data in highly virtualized remote offices, the availability of the deduplicating backup appliance as a virtual appliance became a new option that was evaluated as part of this year's Guide. These virtual appliances offer most if not all of the same features as their hardware appliance counterparts and are primarily used in conjunction with a hardware appliance.
Advanced software management features and storage networking options: Using the StoreOnce 6500, enterprise administrators can select data to bypass deduplication; potentially handle thousands of concurrent backup streams; use a mix of Ethernet and FC storage networking protocols and provide data encryption.
The DCIG 2014-15 Deduplicating Backup Appliance Buyer's Guide achieves the following objectives:
Provides an objective, third party evaluation of deduplicating backup appliances that evaluates and scores their features from an end user's perspective
Scores and ranks features of each deduplicating backup appliance based on criteria that matter most to end users
Provides a standardized data sheet for each of the deduplicating backup appliances so users may do quick side-by-side comparisons of products
Gives any organization a solid foundation for getting competitive bids from different providers that are based on "apples-to-apples" comparisons
"The one constant in data storage is change," added Tim Anderson, co-author of the 2014-15 Deduplicating Backup Appliance Buyer's Guide. "While deduplicating backup appliances still do what they do best, deduplicate backup data, new options continue to emerge that set them apart in archiving, controller heads, improved management and reporting, making them desirable in more ways than initially imagined. As with all our Guides, we know this Guide is an important resource for IT users looking for the best solution to accelerate their backup performance."
Disclosure and Methodology
DCIG identified 10 companies that provide deduplicating backup appliances. Each deduplicating backup appliance had to meet the following criteria:
The solutions main purpose is the deduplication of backup data
Its primary function is target based deduplication backup data
It includes a NAS (Network Attached Storage) interface and supports the CIFS (Common Internet File System) or NFS protocols
It supports a minimum of two hard disk drives and/or a minimum raw capacity of eight terabytes
It ships prior to July 30, 2014
No vendors, whether clients or not, were afforded preferential treatment in the Buyer's Guide. All research was based upon information provided directly by vendors, research and analysis by DCIG and other publicly available information.
It is worth noting that each Buyer's Guide is not intended to be a substitute for internal testing. DCIG encourages any organization that is considering the purchase of any solution included in a Buyer's Guide to do its own in-house testing.
As a supplement to this Buyer's Guide, all of the data collected for this Buyer's Guide and all DCIG Buyer's Guides to date are available through the DCIG Analysis Portal, an online data visualization portal. The portal provides more detail on what is available and can be accessed via this link.
Availability
The DCIG 2014-15 Deduplicating Backup Appliance Buyer's Guide is available immediately to subscribing DCIG Analysis Portal users at the following link http://portal.dcig.com/. Users new to the DCIG Analysis Portal may register at this link to access this Guide.
Resources:
DCIG Website: http://www.dcig.com
DCIG Blog: http://www.dcig.com/blog
About DCIG
DCIG is a group of analysts with IT industry expertise who provide informed, insightful, third party analysis and commentary on IT hardware, software and services.
DCIG independently develops and licenses access to DCIG Buyer's Guides. DCIG Buyer's Guides provide actionable intelligence through comprehensive, in-depth analysis of data center infrastructure product features. DCIG also develops sponsored content in the form of blog entries, customer validations, product reviews, special reports and executive, standard and full-length white papers.
DCIG's target audiences include C-level executives, IT managers, systems and storage engineers and architects, press/media, magazine and website editors, bloggers, financial and technical analysts, and cloud service providers.