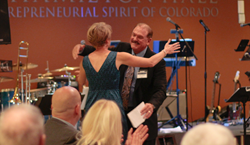 This is the opportunity to be a part of something that is changing the world one home and one family at a time.
Denver, CO (PRWEB) November 13, 2014
On Saturday night, November 1st, a local Denver family received the keys to their new home at the third annual Night of Miracles. To make this moment even more special for the family, they received the keys to the applause of a ballroom full of people who had helped make the dream of homeownership a reality for them.
Zunesis, a Denver-based IT solution provider, has partnered with Habitat for Humanity of Metro Denver for many years to provide funding, volunteer hours, and even leadership on Habitat's board of directors. Believing so strongly in the value of what Habitat for Humanity does, Steve Shaffer, CEO of Zunesis, wanted to involve not only his company and employees with Habitat but also his business partners. Thus, the Night of Miracles was born.
Asked about Night of Miracles, Shaffer responded, "The Night of Miracles is a celebration. We celebrate the phenomenal accomplishment of having raised enough money to fund both a local home and a home overseas. We celebrate the completed building of the home by handing over the keys to the front door to our partner family. And most of all, we celebrate the fact that all of this was accomplished through partnership and community. It's the idea that we can accomplish more when we work together."
A special thanks goes out to this year's Night of Miracles sponsors: Zunesis and Hewlett Packard (Title Sponsors), Arrow Electronics (Gold Sponsor), and Synnex (Silver Sponsor). Thank you for joining in making the world a better place, one home at a time!