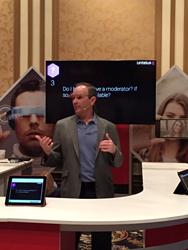 We met with many show attendees who were excited to know Lintelus offers an easy-to-use live meeting solution," commented Fathi Hakam, President & COO
Mission Viejo, CA (PRWEB) November 13, 2014
Lintelus, an event software provider, premiered its highly interactive presentation software at EVENTtech 2014 held at the Bellagio in Las Vegas. In addition to the hands-on demonstrations at the booth, Jay Cormier, Sr. Vice President, gave two presentations on "Using Google Glass at Live Events," by exploring how Lintelus can integrate Glass' SDK (software developer kit) as another option for presenters.
Every year, EVENTtech focuses on the latest technologies, best practices and newest trends during its widely attended two-day event in Las Vegas. Lintelus showcased their digital slide sharing technology, where attendees can download the speaker's slides at a live event or meeting, using their own smartphone, tablet or PC (bring your own device: BYOD). Lintelus tackles the 'death by power point' scenario by enabling attendees to instantly connect to the live presentation, take notes directly on the slides, ask questions of the presenter, network with other attendees and respond to insight-delivering polls. Additionally, Sr. Vice President Jay Cormier led two 30 minute demonstrations exploring what it would be like for a speaker to integrate Glass within the Lintelus user interface.
"We enjoyed participating as a speaker and hosting a booth at EVENTtech 2014," commented Fathi Hakam, President & COO of Lintelus Inc. "We met with many show attendees who were excited to know we offer an easy-to-use live meeting solution to connect speakers with their attendees, that not only reinforces the impact of the presentation but helps build lasting business relationships, beyond the day of the event."
For more information on how to schedule a meeting or get a free demo, please contact us at info@lintelus.com or visit our website at http://www.lintelus.com.
About Lintelus Inc.
Lintelus is changing the way presentations are experienced with interactive features including slide sharing, note taking, live polling and social media. All features are designed to energize slide presentations, engage participants and personalize the event in a collaborative multi-screen "green meeting" environment. For more information or for a live demo, please contact us at info(at)lintelus(dot)com.
About EVENTtech 2014
EVENTtech is the only conference and exposition entirely focused on using social media and technology to optimize events and trade shows. Over one thousand marketers attend each year to learn the latest trends on connecting digital and live, new ways to activate events with social media, test-drive hundreds of event technologies, learn best practices and get insights and ideas from more than 100 classes on wiring events and trade shows.
For media inquiries, contact:
Dina Scaglione, Director of Marketing
949.910.9401