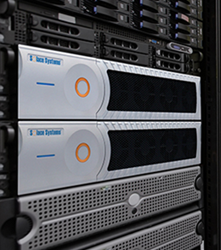 Ottawa, Ontario (PRWEB) November 13, 2014
For the fifth straight year, Solace Systems is named one of Canada's fastest growing technology companies in the Deloitte Technology Fast 50™awards for technological innovation, entrepreneurship, rapid growth and leadership, based on the percentage of revenue growth over five years. Solace ranked 31st with 319 percent revenue growth from 2009 to 2013.
Now in its 17th year, the Deloitte Technology Fast 50™ program celebrates leaders in the Canadian technology industry and tracks the successful growth of Canadian-grown leaders. The program augments the broader Deloitte North American Technology Fast 500™ initiative with winners automatically eligible for this elite ranking.
Solace CEO Craig Betts attributes the company's track record to its ability to help companies manage the rapidly increasing volumes of information that place escalating demand on business and consumer services. "Today's perfect storm of trends like big data, cloud computing and the internet of things are fundamentally changing the IT landscape, and are driving the realization of our vision," said Betts. "By creating special-purpose message routers that make networks application aware, Solace makes it easy for companies to manage and share unprecedented amounts of data. Reinventing this essential application connectivity layer from the ground up is what has made us one of Canada's fastest-growing companies over the last 10 years."
"Like all Fast 50 companies, Solace Systems is entrepreneurial, innovative and demonstrates leadership," said Pascal Lamoureux, Partner and Leader for Deloitte's Fast 50 program. "Their commitment and achievements are critical to the growth of the Canadian technology sector."
To qualify for the Deloitte Technology Fast 50™ ranking, companies must have been in business for at least five years, have revenues of at least $5 million, be headquartered in Canada, own proprietary technology, and conduct research and development activities in Canada. A panel of industry experts evaluate and judge companies based on four key criteria: competitive advantage; size, growth, and market attractiveness; management effectiveness and organization; and financial performance.
About the Deloitte Technology Fast 50™
The Deloitte Technology Fast 50™ program is Canada's pre-eminent technology awards program. Celebrating business growth, innovation and entrepreneurship, the program features four distinct categories including the Technology Fast 50™ Ranking, Companies-to-Watch Awards (early-stage Canadian tech companies in business less than five years, with the potential to be a future Deloitte Technology Fast 50TM candidate) and the Leadership Awards (companies that demonstrate technological leadership and innovation within the industry.) Program sponsors include Deloitte, Bennett Jones and OMERS Ventures. For further information, visit http://www.fast50.ca.
About Solace Systems
Solace enables application-aware networks with its message routers that improve the way information moves between distributed applications. High-speed, reliable information sharing is an essential part of virtually all modern IT initiatives from accelerating legacy business processes to enabling big data, cloud computing and the Internet of Things. Solace message routers unify many kinds of data movement so companies can efficiently and cost-effectively move all of the information associated with better serving customers and making smarter decisions. Solace is a leading provider of application-aware networking equipment, with a rapidly growing customer base that spans all major industries. To learn more visit http://solacesystems.com.