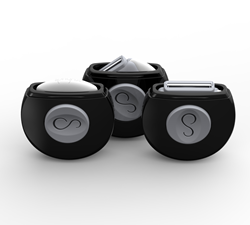 Today, Sphynx Razor launches its Kickstarter campaign with an anticipated nationwide launch in April 2015.
(PRWEB) November 13, 2014
Gone are the days of shameful missed shave spots – Syphnx Razor is here to provide a smooth solution for women on the go! Sphynx Razor is the only all-inclusive shaving system that allows women to tackle shaving anywhere outside the shower.
Fed up with the annoyance and embarrassment of missed spots after shaving in the shower, Founder and CEO of Sphynx Razor, Leila Kashani, knew that there had to be a better way. She searched the market for a portable shaving solution and was surprised to find nothing existed. So Kashani set out to create a quick solution for missed spots that didn't include dry razors… and all the knicks, cuts and bumps that ensued. With a background in marketing and communications from the University of California San Diego and a distinguished career as a marketing and product manager for some of the best known global brands including Nike, Columbia Sportswear and Little Tikes Toys, Leila had both the perfect background to tackle the business of Sphynx as well as being her own ideal Sphynx customer: a busy woman on the go.
Sphynx isn't a replacement for your regular shaving, but rather the perfect accessory to supplement shaving emergencies for today's modern and incredibly busy woman. Sphynx exists to provide women not only with smooth legs, but with a smooth experience for shaving when they need it most – outside their home shower! Sphynx Razor is the first and only discreet and portable, 3-in-1 multifunctional razor on the market today. The Sphynx Razor houses 2 razors, a refillable water compartment and ultra moisturizing shave lotion, in a lightweight self-contained compact case. Women can easily carry one in their purse, tuck one away in their glove box or stash one in their gym bag. Then when a missed spot or shaving emergency pops up away from home, they simply twist the Sphnyx dial to switch between water, soap, and then razor for a quick, discreet and effective shave.
Today, Sphynx Razor launches its Kickstarter campaign with an anticipated nationwide launch in April 2015. To ignite the first bulk order, U.S. based Sphynx Razor aims to raise $25,000. Kickstarter backers will be part of the group to receive the first razors from its production line, with the opportunity to contribute to the design process.
Pledges are welcomed and accepted on ten different levels:
1. $5 or more to help start the shaving revolution
2. $14 or more (200 available): Early birds to receive 1 Sphynx Razor at discounted price
3. $16 or more: 1 Sphynx Razor
4. $28 or more (200 available): Early birds to receive 2 Sphynx Razor at discounted price
5. $30 or more: 2 Sphynx Razors
6. $57 or more: 4 Sphynx Razors
7. $82 or more: 6 Sphynx Razors
8. $106 or more: 8 Sphynx Razors
9. $120 or more: 10 Sphynx Razors
10. $1500 or more: 24 Sphynx Razors, pledger will design a pattern and have their style named after them, to be released on website, along with a custom Sphynx Razor gift box
For more information about Sphynx Razor and to back the Sphynx campaign, visit:
https://www.kickstarter.com/projects/1372731673/1911804027?token=325e079c
About Sphynx Razor:
Sphynx Razor was born with the mission to help women everywhere spend more time with the things they love so they never miss out or worry about grooming again. Turning the bashful moments to the bold, Sphynx Razor is for every kind of woman. Available in a discreet 3-in-1 compact shave, Sphynx Razor comes in a variety of styles and designs to fit every flexible, fearless, and fun life. For more information visit: http://www.SphynxRazor.com