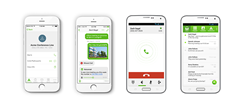 Menlo Park, Calif. (PRWEB) November 19, 2014
November 19, 2014 – SendHub, the all-in-one business phone system, today announced a $5 million Series B round of financing. The round was led by Bullpen Capital, with Kapor Capital and multiple others also participating in the round. The additional funding brings the total company funds raised to $10 million. After experiencing strong sales and customer growth over the past two years, the funding will enable SendHub to enhance its product, scale marketing and engineering efforts, and expand its integration and partnership offering.
Business communication systems often consists of costly, hardware-heavy enterprise solutions, or a mix of personal devices that do not meet all the needs of employees. Small businesses and modern teams need a solution that combines voice, text, and collaboration tools in one easy-to-manage system. SendHub is an app-based system that integrates with the smartphones your employees already have and keeps all business related messages, voicemails, calls and contacts in one secure application on a mobile device.
"At Bullpen, we engage with companies that have the potential to transform an industry, and shift the way businesses operate," said Duncan Davidson, Managing Director at Bullpen Capital. "We believe SendHub's mobile first approach to business communication will transform the telecommunications industry."
With SendHub, business owners and users get the features of a traditional phone system without the hefty setup fees and lengthy contracts. SendHub's scalability provides users the ability to easily activate new phone lines, manage multiple accounts, and monitor usage trends through a web-based administration console.
"Organized business communication tools are critical in today's fast-paced environment where the modern workforce is mobile" said SendHub CEO Ash Rust. "We want to change the way businesses and teams communicate. This funding will help us move closer to our vision of
simplifying business communication and making it fast and easy to communicate anywhere from any device."
SendHub has experienced double digit month over month growth in the last year and has thousands of customers including Lyft, Asana, Doblet and Goldbely. The global unified communication market is expected to reach $75 billion by 2020, according to a new study by Grand View Research, Inc. The growth of mobile workforces, enterprise mobility and increasing adoption of Bring Your Own Device (BYOD) make SendHub the ideal solution for SMB's and teams of all sizes. Some of the business functions where SendHub provides the most value include sales, support, HR and recruiting; as well within companies that need to scale quickly and those with distributed or dispatched employees.
About SendHub
SendHub makes business communication fast and simple, on any device. The company's all-in-one phone system provides SMS, voice, file and conference call functionality in an easy to use mobile app. Businesses can instantly set up an entire communication system that is fully scalable, with no hardware or contract required. SendHub is headquartered in Menlo Park, CA. For more information, visit sendhub.com or follow on Twitter.