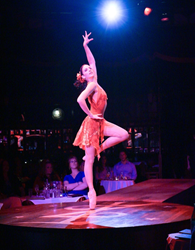 Described as "the Kit Kat Klub on acid" and "the hottest ticket in town" Teatro ZinZanni is a night out unlike any other.
Seattle, WA (PRWEB) November 13, 2014
There's nothing quite like it in the United States. Teatro ZinZanni is part circus, part theatre cabaret, and part delicious multi-course feast wrapped into a whirlwind evening of entertainment underneath a beautiful, authentic spiegeltent. So, it's no wonder that Teatro ZinZanni has become a must-see experience synonymous with Seattle arts and entertainment.
Over the years, Seattleites have seen phenomenal talent up and close and personal under the magical tent including Ann Wilson of Heart, Francine Reed a long-time singing partner of Lyle Lovett, Tommy Tune's direction of a show starring Liliane Montevecchi, and a luminous list of international talents from the world's of cirque, music, and dance. In its most recent concoction, Hacienda Holiday, ZinZanni has upped the ante, bringing two all-new acts to the tent to supplement the already star studded cast in its revelry. Plucking only the mightiest of talent from around the world, ZinZanni audiences were introduced to both Duo Rose and Gamal David Garcia in this production. Duo Rose is a Chicago-based trapeze act known internationally as the first American circus artists to perform in Havana, Cuba since 1959. Their act combines romance with aerial contortion and highly technical skills that leave audiences beguiled by their mid-air beauty. Garcia is a third generation Venezuelan circus performer who can leave you cross-eyed and happily dazed by his ability to juggle.
While the high-flying acts astound, Teatro ZinZanni can attribute much of each show's success to its unique style of audience participation, drawn out of each individual by highly skilled emcees, or as ZinZanni calls them, the Chefs! "I was attracted by the uniqueness of the form, the intimacy and the breaking of the fourth wall between the performers and the audience," Teatro ZinZanni creator and artistic director Norman Langill commented. "Most actors try to pierce that fourth wall. We just assume from the get-go that there is no fourth wall." What Langill is referencing is ZinZanni unique way of plucking members of the audience to actually become a part of the show – some one different and unsuspecting, every night.
In Hacienda Holiday award-winning actor, singer, writer, director, and voiceover artist Christine Deaver tackles the chef role alongside physical and improvisational humorist Kevin Kent – known widely as a comedic drag extraordinaire. "You have to be able to sustain a strong character, hold the energy and attention of the tent, be clever, witty and quick on your feet," Deaver commented. "Every night is difference because you never know who your 'co-star' will be – that's what makes it so exciting!" Together these two co-hosted in the tent on numerous occasion coming back again and again due to popular demand. According to TalkinBroadway.com, "Kent and Deaver have been frequently paired at ZinZanni before but never more successfully. Their broad comic styles and unflagging energy are perfectly aligned."
Joining these two in Hacienda Holiday is actor, comic, musician, and songwriter Robert Lopez (known best as El Vez); former Pacific Northwest Ballet prima ballerina Ariana Lallone; and the show-stopping husband and wife duo Vertical Tango. Teatro ZinZanni shows run year round, and the current production and cast of Hacienda Holiday play through January 31, 2015 in Seattle's famous Teatro ZinZanni spiegeltent. Tickets can be purchased at the Box Office by calling (206) 802-0015.
For complete casting information, visit ZinZanni.com/Seattle
About Teatro ZinZanni:
Teatro ZinZanni is an original show, which combines European cirque, cabaret, spectacle, and live music meanwhile serving up a multi-course feast designed by Chef Erik Carlson. The show is presented in a gorgeous, climate-controlled, antique cabaret tent (known as a spiegeltent). Imported from Belgium, the spiegeltent is nicknamed the Moulin Rouge. Built in 1910, it boasts stained glass, hand-carved wooden interior columns, polished crystal and mirrors. Guests are seated restaurant-style in this unique venue, and the action of the show takes place throughout the circular structure. The Moulin Rouge comfortably seats 285 guests.