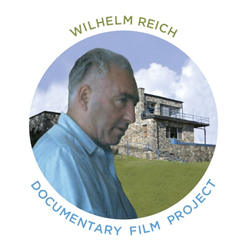 Wilhelm Reich Documentary Film Project - Kickstarter now underway!
South Glastonbury, CT (PRWEB) November 13, 2014
Filmmaker Kevin Hinchey, co-director of the Wilhelm Reich Infant Trust of Rangeley, Maine, has spent over four years combing archives and government files in an effort to connect dots never before assembled into a single narrative.
Science historian, James E. Strick, Ph.D, author of Harvard University Press's upcoming book Wilhelm Reich - Biologist, is one of the film's principal consultants.
Mr. Hinchey's factually accurate film storyline counters the common misconceptions about Reich that are widely held by scientists, physicians and lay people unfamiliar with the real story. Reich's emphasis on the centrality of sexuality to human health and development, as well as his research into life energy--which he dubbed "Orgone"--was highly influential during his lifetime, but also antagonized in 1950s America, ultimately resulting in a seven year investigation by the Food & Drug Administration. A cascade of legal complications culminated in a prison sentence as well as several tons of Reich's published books and research journals being burned in a municipal garbage incinerator in New York City.
This film will tell the full story of Reich's life and work, from Freud's inner circle in Vienna to the politics of Berlin as Hitler ascends to power, and then into a scientific quest from Oslo to New York involving laboratory experiments on the bio-electrical nature of human emotion, origin of life studies, cancer research, and the discovery of a powerful biological and atmospheric radiation with promising implications in medicine and science.
While books such as the soon to be published Wilhelm Reich - Biologist will revisit and cast new light on important aspects of Reich's work, the stigma of Reich's legal troubles and untimely death at the age of 60 have largely kept Reich on the sidelines for decades. With this film, the full scope of this work will be accessible for the first time to a wide audience.
The Kickstarter campaign is live now at https://www.kickstarter.com/projects/25874147/wilhelm-reich-documentary-film-project.
More information about Harvard University Press's upcoming book "Wilhelm Reich - Biologist" by prominent science historian, James E. Strick, may be found at http://www.hup.harvard.edu/catalog.php?isbn=9780674736092.