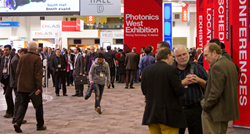 SPIE Photonics West annually attracts more than 20,000 optics and photonics engineers, scientists, industry leaders, and other professionals to San Francisco.
BELLINGHAM, Washington, USA (PRWEB) November 12, 2014
More biomedical optics and neurophotonics, new programs in lasers and 3D printing, silicon photonics for next-generation computing, and a dazzling opening for the International Year of Light are just a few highlights planned for this year's SPIE Photonics West, set for 7-12 February. The event annually attracts more than 20,000 optics and photonics engineers, scientists, industry leaders, and other professionals to the Moscone Center in San Francisco, California.
SPIE Photonics West includes two exhibitions; three technical symposia (BiOS, OPTO and LASE) and three virtual programs (Green Photonics, Translational Research, and 3D Printing); numerous industry-focused events including presentation of the Prism Awards for Photonics Innovation sponsored by SPIE and Photonics Media, and the SPIE Startup Challenge with sponsorship by Founding Partner Jenoptik, Lead Sponsor Hamamatsu, and other industry leaders; a professional development program including 70 workshops and courses; an extensive student leadership program; and numerous networking opportunities.
The BiOS Expo will showcase 230 companies and runs 7-8 February, and the Photonics West Exhibition runs 10-12 February and includes 1,250 suppliers, developers, and manufacturers of the latest products, tools, and applications for research and industry. Booths will include 13 international clusters and 4 U.S. regional clusters.
A two-day Job Fair will connect prospective employees with employers with photonics jobs to fill. Recruiting companies include Apple, ASML, Google, KLA-Tencor, Lockheed Martin, Microsoft, Newport Corp., Thorlabs, and others.
More than 2,200 BiOS presentations will cover biomedical optics, diagnostics and therapeutics, biophotonics, new imaging modalities, optical coherence tomography, neurophotonics, optogenetics, and tissue optics.
In neurophotonics, for example, advances will be presented in mapping the brain to go beyond a "view from space" perspective to a "street-level" view for monitoring and treating stroke impacts, epilepsy, Alzheimer's disease, and other conditions.
The popular BiOS Hot Topics session Saturday evening will feature speakers on high-interest areas such as photoacoustic tomography, optical assessment of breast cancer, adaptive optics for the retina, and simultaneous imaging of neural activity in 3D. Speakers are:

Lihong Wang (Washington University in St. Louis)
Vadim Backman (Northwestern University)
Brett Bouma (Wellman Center for Photomedicine)
Paola Taroni (Politecnico di Milano)
David Roberts (Dartmouth Hitchcock Medical Center)
Richard Rosen (New York Eye and Ear Infirmary)
Peter So (Massachusetts Institute of Technology)
Rafael Yuste (Columbia University).
Plenary talks will be given by Nobel Laureates Eric Betzig (Howard Hughes Medical Institute), William Moerner (Stanford University), and Thomas Südhof (Stanford University School of Medicine), and Gabriel Popescu (University of Illinois at Urbana-Champaign).
New conferences are on Diagnosis and Treatment of Diseases in the Breast and Reproductive System, Optics and Biophotonics in Low-Resource Settings, Molecular-Guided Surgery, and Quantitative Phase Imaging.
Nearly 800 LASE presentations will cover laser manufacturing, laser materials processing, micro-nano packaging, fiber, diode, solid state lasers, laser resonators, ultrafast, semiconductor lasers and LEDs, and 3D fabrication technologies.
Notable among the topics is a conference on High-Power Laser Materials Processing, highlighting technologies that enable light-weight construction of cars and other vehicles, contributing to the reduction of carbon dioxide emissions.
Plenary speakers are Xiaoyan Zeng (Huazhong University of Science and Technology), Donald Cornwell (NASA Goddard Space Flight Center), and Jens Limpert (Friedrich-Schiller-University Jena).
A new conference is on Components and Packaging for Laser Systems.
Nearly 1,700 OPTO presentations will cover silicon photonics, photonic crystals, optoelectronics, semiconductor lasers, quantum dots, and nanophotonics.
Speakers on next-generation lighting and computing technologies include Nobel Laureates Isamu Akasaki (Meijo University), Hiroshi Amano, (Nagoya University), Shuji Nakamura (University of California, Santa Barbara), and Kostya Novoselov (National Graphene Institute, University of Manchester); and industry representatives Hai-Feng Liu (Intel Corp.) and Scott Bickham (Corning Inc.).
Plenary speakers Christoph Lienau (Carl von Ossietzky University), Harry Atwater (California Institute of Technology), and Yurii Vlasov (IBM T.J. Watson Research Center).
Three virtual events, Green Photonics, Translational Research, and 3D Printing highlight emerging optics and photonics research that is being applied to address real-world needs in healthcare, energy, manufacturing, and other areas.
Conference proceedings will be published online in the SPIE Digital Library as manuscripts are approved, with CD and print publication to follow when all manuscripts are in.
The International Year of Light will be celebrated with inspiring visual displays emphasizing the importance of light-based technologies in daily life and honoring historical figures for their contributions to optics and photonics technologies, and in a light-themed all-symposium welcome reception. Information on participating in the observance to help raise awareness of the role light plays in the betterment of humankind will be offered throughout the week.
About SPIE
SPIE is the international society for optics and photonics, a not-for-profit organization founded in 1955 to advance light-based technologies. The Society serves nearly 256,000 constituents from approximately 155 countries, offering conferences, continuing education, books, journals, and a digital library in support of interdisciplinary information exchange, professional networking, and patent precedent. SPIE provided more than $3.2 million in support of education and outreach programs in 2013.