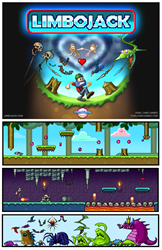 This is the first time we've seen this type of beta release in the market
Carlsbad, CA (PRWEB) November 18, 2014
"This is the first time we've seen this type of beta release in the market" says co-founder Jorge Sauer of Pixel Cake Games. "We wanted to get as many potential customers and publishers access to our game so we decided to make it easily accessible before the official app store release. We're hoping for honest feedback from the public and to possibly find a strong publisher to partner with to make this game a smashing success."
Limbo Jack is a retro style forced runner with a story driven adventure. It is inspired by classic games like the Super Mario series and evokes aspects of Zelda with it's use of hearts and inventory items.
Join the gentle hero Limbo Jack as he goes on a quest to save his sweetheart Princess Maple Cakes from the dark forces taking over the Floating Forest Kingdom. Limbo under and leap over obstacles and enemies. Collect hearts and coins, unlock power-ups and secrets, and battle powerful level bosses.
The beta is a condensed version of the full game. It includes 7 challenging levels and a final showdown with a mini boss and a chance at saving Princess Maple Cakes.
Pixel Cake Games founders Jorge Sauer and Donald Hamilton have teamed up to bring their combined experience in creative game design and business development to produce a line of unique and challenging iOS games.
This innovative approach to beta distribution makes it easy for anyone to download and play the game without having to even go to the app store. Anyone with an iphone can go to the beta url and check the game out for themselves: http://pixelcakegames.com/limbojack
Contact:
Jorge Sauer
pixelcakegames.com
https://www.linkedin.com/pub/jorge-sauer/a8/832/730
858-750-5935