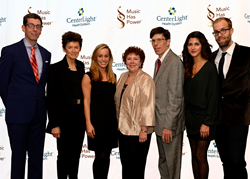 "This evening was filled with lovely stories recognizing family, friendship and the healing power of music," said the IMNF Executive Director Dr. Concetta Tomaino.
New York, NY (PRWEB) November 13, 2014
Luminaries from the worlds of music, art and science converged at Manhattan's City Winery on November 3, 2014 to honor legendary musical entertainer Glen Campbell and his family, Nobel Prize-winning neuroscientist Dr. Paul Greengard, and his wife, renowned sculptor Ursula von Rydingsvard, at the 14th Annual Music Has Power® Awards. The annual event supports the work and mission of the Institute for Music and Neurologic Function (IMNF), a member of CenterLight Health System.
Celebrating the IMNF's visionary spirit and pioneering mission to combine science and music to advance the field of music therapy, the event featured a reception and dinner, followed by a touching awards presentation. Sculptor Ursula von Rydingsvard accepted the Music Has Power Award on behalf of herself and her husband Dr. Paul Greengard, who was unable to attend the event. She shared images of her remarkable large-scale sculptures, as well as intimate stories of how Dr. Greengard managed pain and stress levels during his recent hospital stay by listening to Mozart arias.
Jesse Olson, a Brooklyn-based chef and grandson of Glen Campbell, accepted the award on behalf of his family. Campbell, who suffers from Alzheimer's disease, was unable to travel to the event, which took place at a particularly meaningful time, as November is National Alzheimer's Month.
Jimmy Webb then performed numerous hits from his multi-decade, multi-platinum collaboration with Glen Campbell, including, "Wichita Lineman" and "By the Time I Get to Phoenix," and shared personal stories of their lifelong friendship and artistic collaboration.
Webb's wife, PBS television personality Laura Savini, was one of the evening's presenters, and shared personal anecdotes from the long friendship she and Webb have enjoyed with the Campbell family. She also read a personal message from Mrs. Kim Campbell. IMNF Board Member Midge Woolsey, the PBS television and radio personality, was the event's Mistress of Ceremonies.
"This evening was filled with lovely stories recognizing family, friendship and the healing power of music," said the IMNF Executive Director Dr. Concetta Tomaino. "Laura Savini's personal accounts of the Campbell family rising to the challenge of his Alzheimer's diagnosis, as well as Jimmy Webb's evocative musical performance, completed a remarkable and emotional evening."
With a musical and entertainment career spanning nearly six decades, Campbell has been awarded five Grammy Awards and three Grammy Hall of Fame honors, seven Academy of Country Music awards, a Pioneer Award recognition, three American Music Awards, two Country Music Association Awards and three Gospel Music Association Dove Awards. He was inducted into the Country Music Hall of Fame in 2005.
Nobel Laureate Dr. Paul Greengard is the Vincent Astor Professor of Molecular and Cellular Neuroscience at The Rockefeller University and Director of The Fisher Center for Alzheimer's Research. In 2000, Dr. Greengard was awarded the Nobel Prize for his discoveries concerning signal transduction in the nervous system. He continues to lead cutting-edge research, making important discoveries about the molecular defects responsible for various neurological (Alzheimer's Disease and Parkinson's Disease) and psychiatric (Schizophrenia and Major Depressive Disorder) disorders and also the molecular mechanisms by which neuro- and psychoactive drugs produce their pharmacological actions in these disorders.
Ursula von Rydingsvard is a sculptor best known for creating large-scale, often monumental sculpture from cedar beams. Her work is included in numerous permanent collections in the nation's leading art museums. She has received two grants from the National Endowment for the Arts, a Guggenheim Fellowship, and three awards from the American section of the International Association of Art Critics. She is a member of the American Academy of Arts and Letters.
Learn more at http://www.musichaspower.org or contact the IMNF at (718) 519-5840 or at imnf(at)centerlight(dot)org.
About the Music Has Power® Awards
The IMNF Music Has Power award is presented annually to recognize individuals in the arts, sciences and business communities whose contributions advance the IMNF's groundbreaking music therapy research, programs and treatments. Throughout the years, an elite roster of artists and activists have lent their talent, energy and passion to the Institute's mission, including the event's Honorary Chair, Dr. Oliver Sacks and honorary board member Michael Feinstein, as well as Dustin Hoffman, Beastie Boys, Kid Rock, Chris Martin, Gwyneth Paltrow, Odetta, moby, Betty Buckley, Rufus Wainwright, Kris Kristofferson, Judy Collins and Marilyn Maye. Learn more at http://www.musichaspower.org.
About the Institute for Music and Neurologic Function
Institute for Music and Neurologic Function is a non-profit organization and a member of CenterLight Health System. Founded in 1995, the IMNF is driven by 35 years of clinical observations on the actual effects of music on different types of physical and neurological trauma. Directed by renowned music therapist Dr. Concetta M. Tomaino, with medical guidance from distinguished neurologist Dr. Oliver Sacks, its distinctive setting allows researchers to not only apply their theories, but to follow patient rehabilitation in the long term. The Institute actively collaborates with researchers and practitioners at other leading organizations to advance world progress in understanding and applying the power of music to promote healing and wellness. Learn more at http://www.musictherapy.imnf.org.
About CenterLight Health System
CenterLight Health System is a leading non-profit provider of rehabilitation and long-term healthcare services. Its broad scope of comprehensive programs is as diverse as the communities it serves. With deep roots in New York neighborhoods for more than 90 years, CenterLight currently cares for more than 15,000 individuals daily. Programs include managed long term care, short-term rehabilitation, home care programs, residential nursing homes and music therapy. Learn more at http://www.centerlight.org.