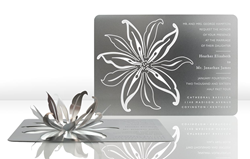 With just a few folds along perforations in the metal, these invitations transform into gorgeous sculptures.
Cleveland, OH (PRWEB) November 19, 2014
Imagine a big event… a high-end corporate dinner, a polished, sophisticated wedding, a swanky political fundraiser… every aspect is painstakingly planned down to the details of the invitation… only to have its beauty appreciated momentarily then tossed aside. Invite Design, an invitation design studio that has made headlines for a decade with its trend-setting, eco-friendly designs, is giving new life to invitations long after the event is celebrated.
Owners of Invite Design, Genevieve Kenney and Nicole Wilson, have designed (3) three new, innovative lines of invitations that no guest will discard. Here's what makes these invitations so unique and earth-friendly:
Sculpted Metal Invitations
This product line is so unique it has a US patent pending. Each invitation in this ground-breaking line is created from sheet metal engraved with the details of the event. The invitation mails flat and possesses a sculpt-able element that turns the invitation into a keepsake that can double as a gift or favor. With just a few folds along perforations in the metal, the invitation is transformed into a gorgeous sculpture – functional as art, a candle holder and more. Easy to follow videos on the Invite Design website (http://www.invite-design.com/create) give step-by-step instructions for how to fold each invitation. While paper invitations are discarded, these invitations live on, reminding guests of the event for years to come. All sculpted metal invitations are also offered as favors, with tabs for inserting an escort card or other card.
Laser Cut Wood Invitations
Truly luxurious Laser Cut Wood Invitations and their coordinating response cards are laser cut and engraved into reclaimed, hand-finished, sturdy, 1/16" thick wood planks. Each design features intricately engraved lettering that is customizable for any event. Reclaimed wood makes these invitations environmentally friendly, and they can be repurposed as ornaments, trivets, art and more when the event has passed.
Imprinted Wood Invitations
All Imprinted Wood Invitations are printed on .025" thick birch panels. Each design features full color printing on both sides of the invitation and a matching response postcard that eliminates envelope waste. The birch wood used in this line is sustainably harvested. Compared with paper, it takes less wood to make these invitations, and there are no chemicals used in the process. The wood and inks are 100% biodegradable, but the invitations can also be repurposed as art, coasters and more.
All Invite Design invitations are 100% designed and manufactured in the USA, decreasing their carbon footprint. Wording can be customized to suit weddings, parties or corporate events.
About Invite Design
Invite Design was started in 2004 by owners and graphic designers, Nicole Wilson and Genevieve Kenney. Invite Design has two locations in Cleveland, Ohio and Cincinnati, Ohio. In the last decade, Invite Design has been featured in The Cleveland Plain Dealer and Crain's Cleveland Business for its trend-forward design and eco-friendly invitations.
For photos and more information, please visit http://www.invite-design.com/media.