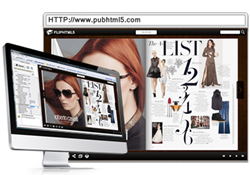 (PRWEB) November 16, 2014
PUB HTML5, a digital media company specializing in online publishing solutions for clients, has unveiled an upgrade to its digital magazine software. The new version, 3.3.0, corrects bugs found in previous editions, and allows users to convert PDF to HTML5 magazine directly. As part of the upgrade, the Bookcase feature also has been upgraded so that ebooks can be easily managed online.
The software enhancements are intended to give improved functionality for both current users and prospective clients. All of the company's versions have had the improvements integrated to offer an improved experience. With security an increasing concern, PUB HTML5's cloud solutions offer an added layer of safety – users can toggle settings so that even the company's own administrators cannot view the content. This particular feature is available for all clients.
PUB HTML5's primary tools include the ability to convert PDF files into online books which can be navigated in a vibrant, user-friendly interface. All sorts of publications, from catalogs to event flyers, can be enhanced with richer text features, color enhancements, and audio clips. PUB HTML5 boasts additional features for its clients, including Search Engine Optimization (SEO) tools to improve rankings on search websites, as well as social media sharing tools allowing clients to expand their reach through the use of websites such as Facebook, Twitter and Tumblr.
ABOUT PUB HTML5
PUB HTML5 is a solution-oriented company focusing on web and multimedia-based clients who need cutting-edge, start-of-the-art publishing products for their business. Based in Hong Kong, they have clients across the globe from a variety of industries. Click here to visit the official PUB HTML5 website for more information.