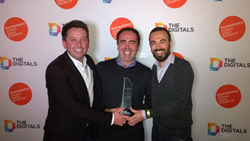 London (PRWEB UK) 13 November 2014
Celebrating digital marketing projects that stand out from the crowd, The Digitals Awards – held in Tobacco Dock, London, last night – saw FusePump and Microsoft Mobile Devices take away the top prize in the Technology, Media & Telecoms category.
The trophy was awarded for the work FusePump and Microsoft Mobile Devices (previously Nokia Devices and Services) carried out to create their BuyNow solution, which brings a brand's product offers to consumers, wherever they engage with the brand online.
The BuyNow solution, which has already won a Performance Marketing award this year for Advertiser Innovation, allows manufacturer brands – particularly those who don't sell directly to consumers through their websites – to display and promote real-time product offers from their retail partners. Whether they do this through their own domains, in bought media or in social media channels, they can encourage people interested in the brand's products to click on a 'buy now' button and complete the purchase on the partner's site. And, thanks to the tracking technology used in the solution, they can also understand the actual conversion to sale on partner sites and optimise the placement of offers accordingly.
Jonathan Lewis-Jones, Head of Optimisation, Microsoft Mobile Devices (MMD), commented: "Winning a second award for this solution this year is fantastic and great recognition from the industry for all the hard work that the MMD and FusePump teams have put in over the last 3 years.
"It has been taken from being a relatively simple price comparison proposition on our website to a multi-channel lead-generating ecosystem, which has enabled us to considerably increase both our reach and online sales performance."
Lee Cash, FusePump co-founder and Sales Director of the Brand E-commerce team, added: "It's so innovative because it puts Microsoft Mobile right at the heart of the consumer journey. They can capitalise on brand traffic to turn browsers into buyers, by sending highly qualified sales leads to their retail partners, and this in turn strengthens the brand's relationship with retailers.
"The BuyNow solution is truly a team effort. Effective collaboration with Microsoft Mobile Devices allowed us to really push the envelope, opening a whole new world to brands who want to play a more active role in recruiting new customers online."
The Digitals is held annually by Econsultancy, and recognises innovation and excellence in digital marketing and ecommerce. Held at Tobacco Dock on 12th November, this year's awards brought together more than 1000 industry leaders for drinks, food, entertainment and prizes.
ENDS
About FusePump
FusePump helps brand and retail clients release the potential of their product data. We extract product information from retail e-commerce sites, and distribute the data into multiple marketing channels. Our award-winning brand e-commerce solutions use data to help brands play a more central role in e-commerce marketing. FusePump also uses data to create engaging display advertising and digital assets, to aid customer acquisition.
For more information contact Kirsty Cooke, Communications Manager at FusePump
0207 199 6594
kirsty.cooke(at)fusepump(dot)com
About BuyNow
BuyNow technology gathers data from retailer websites, giving manufacturers and brands easy access to the product offers that their retail partners are promoting. The brands can then publish these same offers in multiple online channels - their own domains, social media, display advertising, and so on - via trackable links. Wherever a consumer engages with the brand, they are presented with the available product offers, and they are two clicks away from purchase. This shortened path to purchase improves the user experience, while sending more (highly qualified) sales leads to retail partners. Brands enjoy improved relations with their retailers plus increased visibility of their consumers buying journey.
About Microsoft Mobile Devices
In April 2014, Microsoft acquired Nokia's Devices and Services division, which has become Microsoft Mobile Devices (MMD). Please visit http://www.microsoft.com/mobile to find out more.
For more information contact Max Rizzo, Head of eCommerce at Microsoft Mobile Devices
+44(0)7771 772 493
max.rizzo(at)microsoft(dot)com