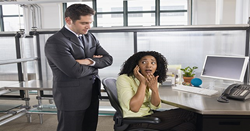 Cyberbullying in the workplace isn't what employees need at a time of economic instability.
London, UK (PRWEB) November 13, 2014
With Cyberbullying becoming too prevalent, the thoughts associated with it that only teens and younger generations attempt to cyberbully others. However, recent surveys and studies have gone to show that cyberbullying is taking over workplaces like wild fire. In a study and survey covered by NoBullying in an article released today, it is time to learn the effect of cyber bullying and cyber harassment on workplaces.
In the past decade communication technologies have increasingly infiltrated the workplace. For instance, UK office workers send and receive 10,000 emails per year according to researchers at Warwick Business School. Many of these will be generic work requests, a few might be impolite and some could be downright abusive.
There are reasons to believe that cyberbullying behaviors perpetrated in the organizational context are more subtle than those observed among children and adolescents. This is because employees are bound by regulations that prohibit explicit abuse aimed at co-workers and adults may have developed the capacity to disguise bullying behaviors. Despite this, workplace cyberbullying can still cause harm as researchers have linked it to low job satisfaction, mental strain and intention to quit the organization.
Examples of workplace cyberbullying can include online threats, overly critical emails and the distribution of embarrassing pictures and personal information. Aspects of computer mediated communication mean that workplace cyberbullying differs from offline workplace bullying in several key ways. For instance, it is possible for perpetrators to remain anonymous; the perpetrator and victim are often in different locations when messages are distributed and cyber acts can be seen by a much larger audience.
Furthermore, certain acts of cyberbullying are more permanent than the transience of offline bullying acts and they can be experienced by employees outside of the work environment.
Researchers from the University of Sheffield are working with the support of No Bullying to identify how negative behaviors conducted through technology can impact employee health, job satisfaction and working relationships, all in a comprehensive confidential study. People are increasingly using technology to communicate with their colleagues. It is therefore important to investigate how negative technology-mediated behaviors affect employees.
The study is completely anonymous, has no reflection on the participant's career and personal details will not be shared with employers or the public.
Ciaran Connolly, Co Founder of NoBullying says "Having a bullying dominant boss is one thing, but being bullied online by coworkers is a completely different thing, cyberbullying in the workplace isn't what employees need at a time of economic instability."
He added that parents and teachers should make a point to educate the younger generations about the sad outcome of bullying online and offline. According to Connolly, it is quite imperative to press for more firm laws condemning all acts of bullying and harassment.
NoBullying.com features many pages dedicated to parents, teens, teachers, health professionals as well as posts related to cyber safety and the latest news about law making concerning curbing Bullying worldwide as well as inspirational Bullying Poems and famous Bullying Quotes.
The website regularly updates its bullying statistics and cyber bullying statistics as it is essential to understand how widespread the bullying epidemic is. It also regularly runs cyber bullying surveys and questionnaires to get recent updated statistics on everything related to cyberbullying.
He also added that anyone suffering from bullying in any form or way can always find advice and help on the NoBullying website – but if anyone is suffering from severe bullying or cyber bullying, the best thing is to talk to someone locally – a parent, teacher or local organization that has been set up to help with specialized councilors to deal with this topic.