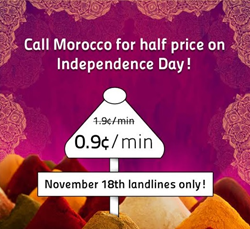 "Thanks for a great service."- Said Oumansour, AlloMaghreb.com customer.
Atlanta, Georgia (PRWEB) November 15, 2014
Morocco's Independence Day celebration starts with a special offer: more than 50% OFF to call any landline in Morocco, no matter the country Moroccans live in. The special gift is offered by AlloMaghreb.com to all its customers who want to call everybody back home in Morocco and celebrate the pride of their lineage, the pride of their independence.
The offer is valid on November 18th only, for calls to any landline in Morocco. The special rate give customers the opportunity to call at only 0.9 ¢/min instead of 1.9 ¢/min, the usual rate.
The Voice Credit service works as an international prepaid phone card, offering all the advantages an online service provides: transparency, online account with free features, 24/7 Customer Support and many more. The Voice Credit service can be used by customers:

From any landline, mobile or even payphone in the world, through local or toll free access numbers.
Calls may also be placed through the free app called KeepCalling. The iOS and Android applications may be used to call without having to dial any access number, and even any phone number at all. Once logged in, customers can use their phone Contacts list to call.
From any PC with Internet connection, through the Web Call app available in customers account.
Besides the Voice Credit service, AlloMaghreb.com customers can recharge the mobile phones of family and friends back home in Morrocco via the Mobile Recharge service. The process takes less than 1 minute and the credit is sent instantly to the destination number. At the moment, customers can recharges mobiles in Morocco pertaining to: Maroc Telecom, Meditel, INWY, Bayn with values between: $6.75 and $42.44.
Also, customers may use a feature that reduces with up to 50% the time they spend while recharging a mobile. All they need to do is to:

Log in to their account.
Go to the Mobile Recharge page. All the prepaid numbers recharged in the last 90 days will be listed here.
Select the number they want to recharge. Both the country and the operator the number belongs to will be automatically filled in.
Choose the amount of the recharge and continue to the checkout page.
Several security filters protect the customers from possible frauds, making the transactions safe. The customer-focused approach, based on safe and user-friendly services and reliable customer service are acknowledged by the customers' reviews as well: "Thanks for a great service and quick reply to my question."- Said Oumansour, AlloMaghreb.com customer.
About AlloMaghreb.com
AlloMaghreb.com is an interactive website designed by KeepCalling, a global telecommunications company registered in 2002 in USA. Presently, KeepCalling provides its services to hundreds of thousands of consumers and businesses, with a focus on customer satisfaction. In 2014, Inc. 5000 listed KeepCalling as the 18th fastest growing company in the telecommunications industry in USA.