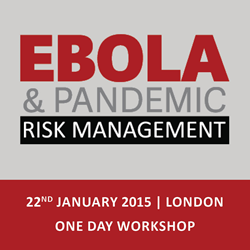 Exclusive Pandemic Risk Management Workshop in London for all corporations
London (PRWEB UK) 14 November 2014
By late January, 1.4 million people in Liberia and Sierra Leone could be infected with the Ebola virus. The World Health Organization recently stated that this Ebola epidemic, the most deadly to date, has a mortality rate of around 70%.
In light of this outbreak, many international companies are now beginning to take stock of what public health crises could mean for their business operations. Business leaders should leverage employees' increased attention on the Ebola issue as an opportunity to enhance their organizational preparedness for this and other pandemics, while keeping the risk in perspective and avoiding panic.
Global Summits Organiser, IRN will host the timely Ebola & Pandemic Risk Management Workshop in London on 22nd January 2015. The morning will host two in-depth sessions run by the Integrated Medical, Clinical, and Security Service Company, International SOS; aiming to enhance corporations' preparedness for pandemics by addressing how to inform and manage their employees in the event of an outbreak.
In addition to an overview of the Ebola pandemic and assessment of the best practices for surveillance and planning, the one-day Workshop will give risk management guidance including:

How to avoid general panic as a result of the Ebola Pandemic
Working with Governments to develop the national and international response
What technologies to use to manage the risk Ebola poses for companies' operations
It will also feature a Case Study on the Ebola private sector mobilization group.
A cross-section of speakers will provide different perspectives and tangible advice on managing pandemics. Pan-African mining company Mwana Africa's Vice President will join the panel discussion; steel and mining company Arcelor Mittal's Head of CSR will give a case study on the Ebola Private Sector Mobilisation Group; and the Security and Resilience Policy Adviser from UK trade organisation ADS, will address how the security industry is supporting the Ebola crisis response.
More information can be found on the website http://www.ebolaworkshop.com
The official Twitter hashtag to join the discussion is #EbolaWorkshop.