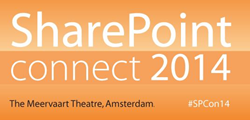 Boston, MA (PRWEB) November 13, 2014
Intlock is eager to announce that they will be attending the SharePoint Connect 2014 conference in Amsterdam, Netherlands on the 18th and 19th of November. 2014 has proven to be a very interesting year for SharePoint Portal end users, enthusiasts, developers, and business managers as there are a variety of new features on the horizon. Intlock is keeping pace with these advancements and is constantly updating CardioLog Analytics to ensure that organizations are being provided the most innovative tools to optimize their portals. With the rollout of SharePoint Online, CardioLog Analytics is fully developed to accommodate both on premise and cloud based portals. In relation to new social features, CardioLog Analytics offers customized reports for the newest social features within SharePoint and other social networks such as Yammer and Sitrion.
With a large number of sessions, keynote speakers, and workshops, Intlock is ready to join the conversation about these major changes to the SharePoint system so that organizations can get an idea of how SharePoint analytics are not only adapted to these new changes, but are also an invaluable tool for understanding how to acclimate portals.
Intlock will be exhibiting at Booth #2 and welcomes all visitors to come by the booth and visit for a demonstration. Attendees are invited to enter a drawing for the chance to win a very special prize!
For more information, please email info(at)intlock(dot)com or call 1-617-500-8461.