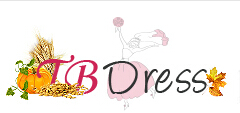 (PRWEB) November 13, 2014
Just in time for the holiday season, Tbdress.com, a leading dress company focused on making fashionable wedding dresses, evening dresses, prom dresses and more, announced today its Thanksgiving Outerwear sales.
At the site-wide promotion, people can "buy 1 get 5% off; buy 2 get 10% off, and buy 3 get 15% off." The shoes are up to 80% off. But the special offer is valid from Nov. 1 – 27 only.
The spokesman for the company says, "It is not easy to choose buy good outwears at affordable prices online, because there are a lot of clothing suppliers there. As a leading B2C online store, we want to show our thankfulness to all the customers. We are proud to have the opportunity to be part of this time-honored tradition."
He adds, "It's really exciting to be a part of the Tbdress team and have the opportunity to provide trendy outerwear to the people worldwide."
Thanksgiving Day falls on the fourth Thursday of November, which is a very important and special festival every year. Tbdress.com has especially updated its website with its new collection of outwears. Now, people can get warm and cheap women's outwears with a few clicks of a mouse.
Buyers are also encouraged to follow Tbdress.com on Facebook, Twitter, Instagram and Pinterest to see photos and videos of the promotion. To find out more about the Thanksgiving Outerwear sales, visit http://www.tbdress.com/topic/ThanksgivingInTBdress/
About Tbdress.com
Tbdress.com is offering extensive and stylish collections of wedding dresses and other special-occasion dresses at acceptable low prices, and its products include a wide range of wedding dresses, evening dresses, prom dresses, and more. They vow to provide trendy wedding dresses without sacrificing the dress quality. For more details, please visit Tbdress.com.