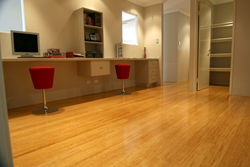 (PRWEB) November 22, 2014
BambooIndustry.com is a well-known bamboo flooring factory and wholesaler; today the business announces its natural bamboo flooring's sales turnover has increased a lot in the past few months, which has exceeded many bamboo experts' expectations.
BambooIndustry.com attended the recent Canton fair, and showcase its new bamboo flooring products and designs at the great trade show. As a result, many international customers are interested in the innovative products.
According to the sales manager of BambooIndustry.com, their premium quality bamboo flooring is offered at affordable rates, which make the company stand out from the rest of the businesses operating in the same industry. BambooIndustry.com promises to continually adopt new technologies and premium customer service to stay competitive.
BambooIndustry.com is a leader in the bamboo flooring industry. The CEO of the company says, "We are excited to have a great opportunity to meet so many potential customers at the show. We plan to bring many designs to the customers worldwide. In addition to high quality bamboo flooring products, we offer our customers discounted shipping for our products, as well as unmatched customer service. OEM orders are welcomed at BambooIndustry.com."
He also introduces that bamboo flooring is produced from bamboo, a fast growing plant, under high temperature and high pressure, combined with non-toxic and eco-friendly glue. Manufactured bamboo floors are typically made available in planks with either vertical- or horizontal-grain orientation.
About BambooIndustry.com
Certified by both ISO9001:2008 and ISO14001:2004, BambooIndustry.com has 8 years of experience in the manufacturing and wholesale of bamboo flooring products. The company strives to bring its customers the latest styles and innovations of bamboo flooring, bamboo paneling, bamboo plywoods, bamboo furnitures, and other bamboo products.
More information about BambooIndustry.com and its bamboo flooring products can be found at http://www.bambooindustry.com/bamboo-flooring