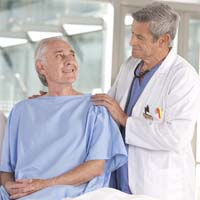 In nude mice… treated using a combination of pemetrexed and NPe6 PDT, the tumor volume decreased by 50%...
Raleigh, NC (PRWEB) November 15, 2014
Japanese scientists say a combination of the chemotherapy drug pemetrexed (Alimta) and photodynamic therapy (PDT) can shrink mesothelioma tumors up to 80 percent – but only if it is administered in the right order. Surviving Mesothelioma has just posted an article on the new research. Click here to read it now.
Doctors at Tokyo Medical University and the Nippon Medical School gave pemetrexed and PDT to mesothelioma cells in the lab and to mice that had been injected with human mesothelioma.
"In nude mice… treated using a combination of pemetrexed and NPe6 PDT, the tumor volume decreased by 50% but subsequently increased, reaching the pre treatment value after 14 days," writes lead author Dr Sachio Maehara.
According to the report in the International Journal of Oncology, photodynamic therapy given prior to pemetrexed was more effective, but tumors still grew back. It was only when pemetrexed was used as a pretreatment that the combination not only shrunk mesothelioma tumors, but kept them from regrowing.
"As any cancer patient knows, shrinking the tumor is only half the battle," says Surviving Mesothelioma Managing Editor Alex Strauss. "The most promising treatments, and the ones that are most likely to have a positive impact on mesothelioma survival, are those that can also prevent regrowth, as this treatment appears to do."
To understand how PDT and pemetrexed may work together to fight mesothelioma, see Promising Mesothelioma Therapy Combo Reportedly Shrinks Tumors, Inhibits Regrowth now available on the Surviving Mesothelioma website.
Maehara, S et al, "Combination effect of photodynamic therapy using NPe6 with pemetrexed for human malignant pleural mesothelioma cells", November 10, 2014, International Journal of Oncology, Epub head of print, http://www.spandidos-publications.com/10.3892/ijo.2014.2746?text=abstract
For nearly ten years, Surviving Mesothelioma has brought readers the most important and ground-breaking news on the causes, diagnosis and treatment of mesothelioma. All Surviving Mesothelioma news is gathered and reported directly from the peer-reviewed medical literature. Written for patients and their loved ones, Surviving Mesothelioma news helps families make more informed decisions.